Welcome to Part 3 of Seven Question Beer Sunday.  Today's edition features replies from @beer_shark (aka Keith) and @bostonbeergirl_ej (aka Erika).  Keith has a very large social presence with almost 12k followers.  If you have ever seen a post on the 'gram of a beer with a toy shark, that's Keith.  I have known Erika probably since I started using Instagram for all things beer.  She is young, smart, and outspoken.  A little unknown side note about Erika, she is also a foody.  So if that's your jam, give her a follow too.
Both are perfect examples of what it takes to make the beer community grow.  They know how to push that needle forward with posts of the beers they like, the very creative pics, and the awesome places they have visited.  I hope you enjoy their responses as much as I did.  Thank you, Keith and Erika, for all your contributions!  Cheers!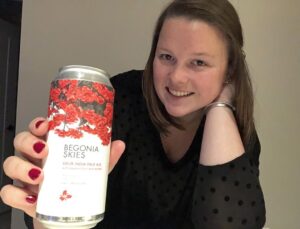 1 – Will there be a brewery bubble in the US and why?  Will there be? Yes, at some point. When it will happen? TBD. Currently, the pandemic and restrictions hit craft breweries hard. I think it's important we all focus on supporting the local craft breweries we love and the small restaurants that serve their beer.
2 – Have you ever had beer delivered or shipped to your house? If yes, name the brewery or service?  No, but I was excited to see MA laws have become more flexible during the pandemic to allow for this. I think as the colder weather sets in, more breweries/services will begin delivery and expanded service areas.
3 – Your go-to beer on a scorching hot & humid summer day?  A lager! This summer, I found myself crushing Wormtown's Mass Hole, Castle Island's American Lager, and Spicket River's Lawtown Lager
4 – If you could get a tattoo of any brewery logo, what brewery would it be?  I've always loved Lord Hobo's logo but I have to say Lorelei Brewing because their logo is a mermaid!
5 – Ever have Black Tuesday from The Bruery? If yes, what did you think?  No, but it sounds fantastic! I'd love to try it!
6 – What is your opinion of a milkshake IPA?  I've had some delicious ones and I've had some not-so-delicious ones, but no matter the style,  I'm always down to try a new brew! I love how creative breweries are getting with beer styles, ingredients, and experimenting with food-inspired beers.
7 – Ever have Dogfish Head 120? If yes, what did you think?  I know it's a classic and I'll get some flack for this response but an 18% IPA just isn't very appealing to me. One day I'll try it!
____________________________________________________________________________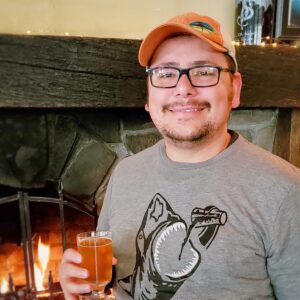 What is your name and location?  I'm Keith. I'm originally from New Jersey.  I've been living in San Francisco the last 7 years, but am returning back East this Fall.
What is your day job?  Freelance photographer
What is your blog, Instagram etc?  My Instagram handle is @beer_shark and my photography website is keithbodziak.com
Want to plug your side hustle?  I'm part of the Hop Bay crew, which you can check out at @hopbayarea or hopbayarea.com
1 – What was the first beer you ever had and how old were you?  My first memory of beer is sneaking a taste of Coors when I was 4 or 5 years old, but not liking it.  When I was a teenager, my friends' older brothers would drink down by the creek, so I'd have a random sip here and there…Pete's Wicked Ale and ice/dry beers during the ice beer craze of the '90s.
Those were just passing instances; I didn't really drink until I got older. As an adult, in my 20s, I took a trip to Europe. That's when I fell in love with real beers.  First in England with pub ales, then in Germany with the variety of local styles in every little region we visited.
2 – How many beer related hats do you own?  I have a shark hat, though I rarely wear it. I was given a cap by @ancestrybrewing in Portland that I like. My friend gave me a @victorybeer beanie, I have a @craftin_ca hat, and of course, there's my @hopbayarea cap.
3 – Which style beer do you prefer, Pilsner or Sour?  I am definitely in the sour camp. But really, I love all beer styles. There's a time and place for each one.  I enjoy experiencing beers with people, and sometimes they show me something that they like about a style. That sharing and discovery is really fun.
4 – Ever drink an IPA twelve months past its born date?  Yeah, it's not something I make a habit of, but I have. One time, I remember opening a 7-year old Mikkeller IPA with friends.  As we popped it open, we exclaimed, "7 year old IPA…for science!"  At that point it's no longer an IPA, it's developed into more of a barleywine. But it's not going to kill you, and it's not as gross as some people make it out to be. Seven years is an extreme case, but you can drink an IPA past a month or two, and it can still be okay!
5 – Have you ever been to a beer share?  Probably on a weekly basis!
6 – Ever had a Gruit beer and if yes, which one?  I am familiar with gruits and have had some, but not with any type of regularity. They seemed to be curiosities made by brewpubs during a certain period, but I think those days are gone. I used to get the Ancient Ales series from Dogfish Head; those beers were interesting.
7 – What are your three favorite beer styles?  I really like wild sour beers. More specifically lambics. I've been on a giant kick with the depth and complexity of lambics. Even within that style, there are so many sub-styles! I can feel comfortable to explore that one style for a long time.
I've also really grown to appreciate barrel-aged stouts, which sometimes includes pastry stouts.
And if I had to pick a third, here's a wildcard for you – bocks! They showcase malt in a really nice way. I think people should be exposed to them more often.
____________________________________________________________________________
Look for these future responses from the following for SQBS soon…
Part 4 – @bostonbeerhunter and @bostonbeerprincess
Part 5 – @christina_hazyboyapparel and her bf @all_hail_the_haze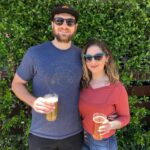 Part 6 – @kitten_whiskers_sparkles and @cpoirier_1970
Part 7 – @beernarrator and @mustlovebeeranddogs with responses from her hubby, John
If you want to be featured, send me a DM or reach out to me via email at [email protected].  Feel free to comment at the very bottom if you want to see more!
You can also find my other posts and pics on Twitter, Instagram & Facebook.
Thanks for reading and have a great day!
GotHops.blog
Tags:
#beerbloggers
,
#blogger
,
#craftbeerblogger
,
#sevenquestionbeersunday
,
beer
,
breweries
,
brewery
,
craftbeer
,
Hoppy