Welcome to Part 4 of Seven Question Beer Sunday.  Today's edition features replies from @bostonbeerhunter (aka Scott) and @bostonbeerprincess (aka Bailey).  I have had the privilege to meet both a few years ago.  Scott has been kind of enough to invite me to several brewery events he has organized.  Bailey used to work at a local brewery near Boston and has been to a few of my Breakfast at the Brewery events around Southern New England.
Until COVID took over the world, I would see both more often than not.  I think we can all agree COVID has forced us to change the way we live.  However, I think some good will come from those changes.  That's my half glass full attitude so time will tell but I digress.
I hope you enjoy Scott and Baily's responses as much as I did.  A big thanks to both for their contributions and support!  Cheers!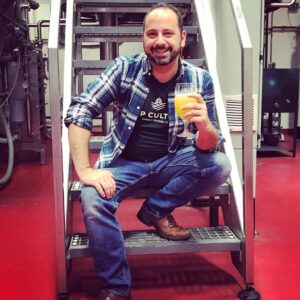 What is your name and location?  My name's Scott from Wakefield, MA – what I refer to as the 'gateway to the North Shore.' It's a nice little town that reminds me sometimes of a town Stephen King might have invented.
What is your day job?  I am a gig economist, for sure. I work mostly full-time for KYC, (Kevin York Communications) a small PR/marketing agency that specializes in craft beer. Up until quite recently I also worked as head of business development for an ed-tech start-up called Testive. I was there for five years and my last day was literally on 9/11. I also do some work for another ed-tech company that offers 3D design and STEM learning resources. Sales and marketing for small companies is kind of my thing.
Where can we find you on the socials?  @bostonbeerhunter is my personal Instagram. I'm on Twitter and FB as well, but don't use those platforms nearly as much for beer-related stuff.
1 – Ever take craft beer with you on vacation?  Not really. I believe very firmly in the 'drink local' mantra, and that counts even if I'm shipping down to nearby Cape Cod (I'll either stop directly at a Cape Cod-based brewery on my way down, or pick up local brews at one of the liquor stores in the Cape). I'll always try to stop at a local brewery wherever I go — especially if I'm out of state.
2 – Favorite brewery or beer from New York?  I've spent a lot of time in central NY over the years, so I probably have to give a nod to Ommegang as my historical point of reference.
3 – Ever been to a brewery in Australia, if yes which one?  Sadly, I have never been to Australia. At this rate, I'll have to wait until after my daughters (7 and 5) go to college before I contemplate a trip of that magnitude. But: never say never.
4 – Your go-to beer while golfing, playing softball, fishing, etc.?  I wish I could say I indulge in interesting outdoor hobbies – but although I spend a lot of time outdoors, I am not a sportsman. Give me a beach and a Mexican Lager however, and I am a happy summer drinker.
5 – The beer you haven't had yet but would go thru extra measures to get?  Pliny the Younger.
6 – What is your opinion of beer rating apps & websites such as Untapp'd, Ratebeer, etc.?  I think there are pros and cons. As with anything related to reviews, the websites are incredibly subjective and very few of the users are true SMEs (subject matter expert). As such, you have people lambasting a beer because it's not as good as something they picked up at Tree House, which is in many cases wildly off course.
Personally, I enjoy using Untappd as a way to keep track of the beers I've had, but I have long since abandoned rating them. I'm not a cicerone and don't claim to be, and a lot of negative reviews can be damaging to a brewery. But I think most people get that and, frankly, if a beer receives less than 3 stars based on some high aggregate number of reviews (call it 200+) then it's probably safe to assume the beer might not be good — except you automatically know that if it's a lager, it is likely going to score lower than a NEIPA based purely on the average user's beer preference and unfamiliarity with the style. I think, in the end, it's a fun app that people shouldn't take too seriously.
7 – Your go-to beer while having dinner?  I can't deny the fact (and a cursory glimpse at my Instagram handle will quickly confirm this) that I am a haze-lover. So typically my first beer of the day is a New England IPA, which sometimes rolls into dinner (depending on how early I start and how early we eat!) But I don't think NEIPA actually pairs well with most food: lagers, saisons, and some sours are a lot better if you want to make your food pop. I just reach for a NEIPA 9/10 times if I have them in the fridge.
____________________________________________________________________________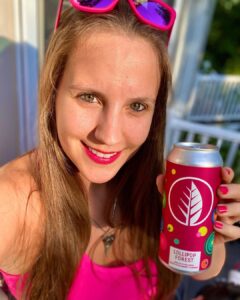 • What is your name and location?  I am Bailey from Boston, MA.
• What is your day job?  Just left a job on the packaging line at a local brewery.
• Where can we find you on the socials?  My Instagram is @bostonbeerprincess
1 – What's your opinion of beer rating apps & websites such as Untapp'd, Ratebeer, etc.?  I think they can be helpful and harmful at the same time. I do like to look up ratings if I'm at a bar and don't know anything about the beers, but frequently won't give them a chance if they get low scores. Sometimes the beer has earned a low rating but other times people who know nothing about the style rate the beer low because they generally don't like or appreciate the style.
2 – Favorite brewery or beer from New York?  Haven't had many NY beers but I'm a big fan of Finback.
3 – Which style beer do you prefer, Gose or Lager?  Haven't had many Gose beers so I'd say Lager.
4 – What is your opinion of a milkshake IPA?  Gross!
5 – Favorite brewery or beer from Florida?  Only Florida beer I've had is Jai Alai from Cigar City but it's a solid beer.
6 – If you could get a tattoo of any brewery logo, what brewery would it be?  Brewery Silvaticus
7 – Ever drink a pint of Guinness while wearing green?  Yup!
____________________________________________________________________________
Look for these future responses from the following for SQBS soon…
Part 5 – @christina_hazyboyapparel and her bf @all_hail_the_haze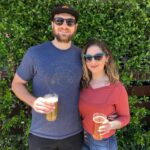 Part 6 – @kitten_whiskers_sparkles and @cpoirier_1970
Part 7 – @beernarrator and @mustlovebeeranddogs and a few responses from her hubby, John.
If you want to be featured, send me a DM or reach out to me via email at [email protected].  Feel free to comment at the very bottom if you want to see more!
You can also find my other posts and pics on Twitter, Instagram & Facebook.
Thanks for reading and have a great day!
GotHops.blog
Tags:
#beerbloggers
,
#blogger
,
#craftbeerblogger
,
#sevenquestionbeersunday
,
beer
,
breweries
,
brewery
,
craftbeer
,
Hoppy