It's another weekend and Part 2 of Seven Question Beer Sunday features replies from @nehopgirl & @commonmanbrewreview.  I have only known Common Man (aka Adam) as of this year and we recently met at Oakholm Brewing in Brookfield, MA.  NE Hop Girl (aka Shelly) and I have tipped back many beers together at festivals, beer shares, and lots breweries.  She loves her dog, Bruce.  Adam loves his pumpkin ales.  Ya, go bust his chops, I do…weekly!
All kidding aside, they are some of the nicest people you will meet in the beer community.  I hope you enjoy their responses.  Thank you, Adam and Shelly, for your contributions!  Cheers!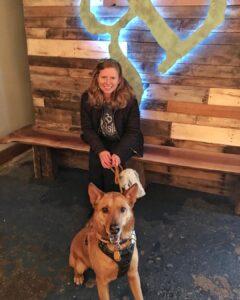 What is your name and location?  Shelly from Webster, MA
What is your day job?  I am a manager of a graphic production department for an exhibit house.
What is your blog, Instagram, Twitter, or Facebook sites?  Instagram @NEHopgirl
Want to plug your side hustle?  No side hustle, boring life at this moment 😉
1 – Favorite brewery or beer from Michigan?  Founders Rubaeus!
2 – How many beer related shirts do you own?  Almost all of my shirts are beer related! At least 54 that I can count at this moment.
3 – Ever drink a pint of Guinness on St. Patty's Day?  I have had Guinness on St. Patty's Day, been a while though.
4 – Ever have Atrial Rubicite from Jester King? If yes, what did think?  Have not had the Jester King, but I am sure it's great
5 – Ever have Heady Topper from The Alchemist? If yes, what did think?  I have had plenty of Heady! I used to make the VT trips to wait in ridiculous lines for the Heady drop cause to me, it was the best beer in the NE area! With new styles and the juicier NE IPAs, my tastes have shifted a bit. While I will still get a Heady while in VT, I will not go out of my way for it anymore.
6 – What's your opinion of beer rating apps and websites such as Untapp'd, Ratebeer, etc.?  I personally use Untapp'd, mostly to keep a record of what I thought of a beer and not for the amount of check-ins or badges. It is also useful for local venues and what is on draft.
7 – Name a beer, which is widely available, but in your opinion is underrated and overlooked?  I am not sure how far they distribute, but Wachusett brewery is widely available in NE. I am unable to choose one beer because as a brewery, I feel they are underrated. They make solid beer with styles for everyone.
____________________________________________________________________________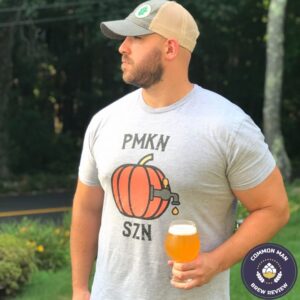 1 – Hop Head or Malt Head?  Hop head
2 – What was the name and location of the first brewery you visited?  Wormtown Brewery, Worcester, MA.
3 – Most famous or most celebrated beer person you have ever met?  Ed – GotHopsBlog 😎 (editor note: nicely played kind sir)
4 – The world is ending and you can only choose one to drink; Coors Light, Bud Heavy, or PBR?  Coors Light
5 – Will there be a brewery bubble in the US and why?  I feel eventually there might be. In most businesses, there's always an over-saturation point and unfortunately, the craft beer industry will have its time. I believe it's up to this generation to keep the business thriving and to keep the industry appealing to younger people.
6 – Most odd but interesting tasting beer you ever had?  The oddest, but interesting beer I've ever had probably was from Bay State Brewing, it was called Schrute Farms. It was a beet-based beer. Ultimately I would never get it again, but it was definitely unique.
7 – What is your opinion of a session IPA?  I'm indifferent I guess. Almost seems like it's a wanna be IPA. I've had good ones before, but most of them have missed the mark on a true feel of an IPA (but still hit with a lower ABV)
____________________________________________________________________________
Make sure to look for next week's edition of Seven Question Beer Sunday featuring replies from @beer_shark and @bostonbeergirl_ej.
If you want to be featured, send me a DM or reach out to me via email at beerme@gothops.blog.  Feel free to comment at the very bottom if you want to see more!
You can also find my other posts and pics on Twitter, Instagram & Facebook.
Thanks for reading and have a great day!
GotHops.blog
Tags:
#beerbloggers
,
#blogger
,
#craftbeerblogger
,
#sevenquestionbeersunday
,
beer
,
breweries
,
brewery
,
craftbeer
,
Hoppy