Dog owners know the drudgery of trying to find dog-friendly taprooms and beer gardens.  Add the current COVID restrictions, especially the rules about serving food, and the effort becomes quite a chore for breweries to keep up to date.  As a new dog owner, it became very evident that there was no existing and updated dog-friendly list to refer to.  Furthermore, I'm sure many consumers don't have the time to check every brewery's website, to see if they will allow Fido to hang out in their establishment.
Well, today is your lucky day doggo lovers.  Below is an active list of all breweries in Massachusetts, as well as few others outside of MA, that allow (or do not allow) our four-legged friends.  The best part is the list is searchable.  If that doesn't make planning your weekend trips with Tucker & Bella easier, I'm not sure what does then.
Dog Friendly Breweries – New England
(to view on your phone, copy & paste the link to your web browser, then turn sideways)
This list does not include those folks with service dogs, mostly because it is illegal for any public establishment to refuse anyone with a service dog.  However, there are rules that define what makes a service dog in the state of Massachusetts.  If you want to know more then click here.
Most of the breweries I reached out to had one common concern.  Your dog should be well behaved.  I have only seen one instance, in the 10 months since getting my miniature Bernedoodle, Ozzy, where a dog (and its owner) should have never brought their pooch to a brewery.  It almost pains me to mention this but use your best judgment if your dog is good with crowds, loud music, and approaching children.  If you have to question if your dog will negatively react to any of that, for even a second, your dog does not belong at a brewery.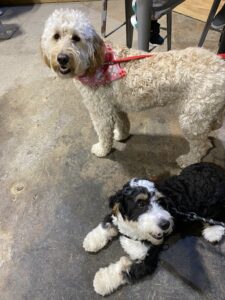 A big shout out to the Mass Brewers Guild website for the comprehensive list of current breweries located in the Bay State.  I have to give a big cheer to my boys, the Mass Brew Bros, for their continued support to update all of us on new and closed brewery locations in Massachusetts.  Their blog post from 2019 of dog-friendly breweries was my inspiration to create a more refined and updated dog-friendly brewery list.  And a huge thanks to @nehopgirl for adding the Rhode Island breweries!
Did I forget a brewery?  Maybe you have information contrary to what is listed?  Kindly send an email to [email protected] and I'll be happy to make edits as I update the list.
Be good to each other and cheers! 🍻
Ed-
Like what you read?  You can also find my other posts and pics on Twitter, Instagram & Facebook.
Twitter – _@GotHops_
Instagram – @gothops.blog
Facebook – @GotHops.blog
Tags:
#beerbloggers
,
#blogger
,
#brewerydogs
,
#craftbeerblogger
,
#doggos
,
beer
,
breweries
,
brewery
,
craftbeer
,
Hoppy