When three Gen X homebrewers and childhood friends meet later in life in a home brewing club, you know something special will be brewed.  Welcome to Labyrinth Brewing, the brainchild of Adam Delaura, Chris Walnum, and Sean Gaura.  The brewery is located in the Cheney Brothers Historic District in Manchester, Connecticut, also known as the Silk City.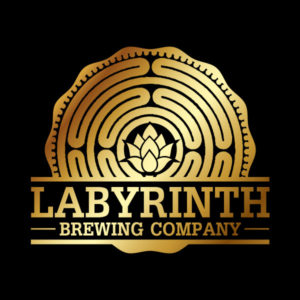 I love to visit brewery locations in their infancy.  My visit to the Labyrinth Brewing looked like I was stepping into a giant maze, having rows of 2 x 4's, somehwhat akin to an escape room.  My first thought was perhaps this is where the Labyrinth name was born.  Maybe the name was paying homage to the neighborhood where the brewery is located, which is among many buildings left over from what was once the world leader of silk manufacturing.
So where did the name Labyrinth come from anyway?  It is actually a reference for their love of role-playing games.  Dungeons & Dragons and Magic: The Gathering, being just a few they mentioned.  This mythical and fantasy type theme radiates through their choice of beer names as well.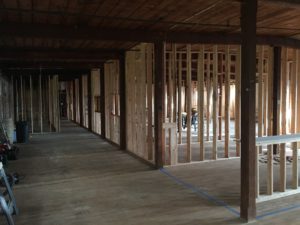 Upon meeting the very hospitable owners Adam and Sean (Chris was not available), you instantly notice the gorgeous wood beams and columns.  With its nearly perfect brick walls that appear mostly untouched except by paint and slim rays of sunlight.  The brewers are very organized, methodical, and the space (albeit under construction) is well kempt.  White outlined locations on the floors indicating where equipment needs to be located.  Blueprints spread across a table, without a hint of a coffee stain.  The historic building the brewery is located in, was once used to store the scraps of silk made in the mill buildings that are a short walk away.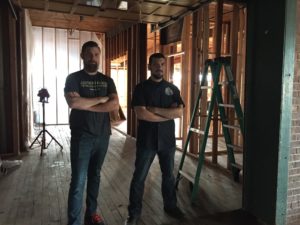 I am very much a history person, and it was evident they are too, as they showed me a few artifacts that were left behind that will be repurposed.  The most interesting is a cover of a shipping crate addressed to Miss Mary Cheney.  She is the daughter of one of the eight Cheney sons of Manchester's silk manufacturing fame.  Speaking of repurposed, they saw an opportunity to make more room for parking by cutting down several big oak trees.  What do they plan to make with all the wood?  It will be made into tabletops and the Labyrinth Brewing bar.  I cannot wait to see the finished product!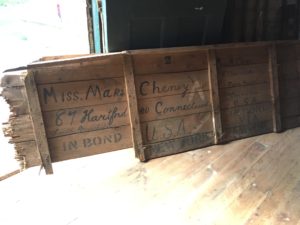 Adam and Sean are hoping their new brewery creates more opportunities for other brewers to come into the Manchester area.  They also want to pay it forward to any prospective brewer, just as they received when they were hunting for information to open a brewery.  This is what makes the brewing community so awesome.  They did mention David Wollner, of Willimantic Brewery, was very informative and helpful. I am sure there were many others just like David who shared a plethora of valuable information to get the trio started in the right direction.
Labyrinth Brewing will serve traditional IPA's and Stouts, as well as other flavorful brews.  Names like Erebus, an Oatmeal Stout, and Enkidu, an IPA, will eventually make their way into their tap offerings. Interestly, they use a taste-testing panel made up of industry professionals as well as a few beer fanatics. This helps them decide which beers are more favored over their other brews to have on tap.  They will also have a quality lab sampling everything from yeast to the profile of the water.  The latter is very impressive for a small startup brewery.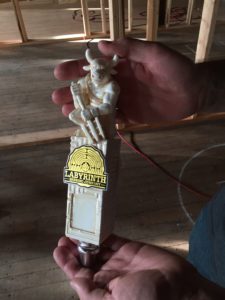 An art gallery will greet you as you walk towards the taproom.  Another such endeavor is to pay homage to the early investors from their Kickstarter projects.  People that made a donation will have their name engraved on a piece of wood, and adorned on the wall as you first walk into the brewery.  Very classy, Labyrinth Brewing!
There will be no food services at the brewery, but you are welcome to bring your own.  The building does have some zoning limitations due to being in a historic district, but they will make it as cozy and inviting as they possibly can.  Looking at the potential interior of what I saw, I am sure no one will be disappointed with the outcome.
How committed are these men about brewing beer and opening a brewery?  Adam and Shawn both quit their day jobs, and now have building a brewery as their only means of employment.  With no sales yet from brewing beer, suddenly that word committed has a completely different meaning.  As frightful as that sounds, it also adds a ton more weight on their shoulders!  I'm stressing out just thinking about that!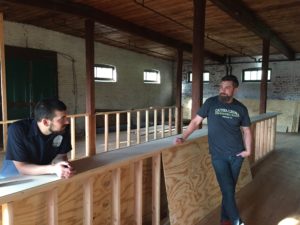 Much will change with the brewery over the next several months, and they are very hopeful it will be open before December.  They want to make sure you, as the beer consumer, or just someone passing through Manchester, leaves their place with an unforgettable experience.  When you arrive at Labyrinth Brewing and want to talk beer with them, just remember to ask which one is the Druid and which one is the Paladin 😉
Labyrinth Brewing is located at 148 Forest Street in Manchester, CT.  Their website is labyrinthbrewingcompany.com and you can also find them on Instagram @LabyrinthBrewing, Twitter @LabyrinthBeer , Untapp'd at LabyrinthBrewingCompany, and Facebook under LabyrinthBrewing. Want to see the three owners talking about opening their brewery?  I found this gem of a video for your viewing pleasure.
Click the link below for a complete gallery of pictures taken of my visit.  Feel free to use and share but please give proper credit to Labyrinth Brewing and GotHops.blog.
Like what you read?  Feel free to comment below or reach out to me at beerme@gothops.blog
You can also find my other posts and pics on Twitter and Instagram.
Twitter – _@GotHops_
Instagram – @gothops.blog
Thanks for reading and have a great day!
Cheers!
Ed-
Tags:
beer
,
brewery
,
Cheney
,
craftbeer
,
Enkidu
,
Erebus
,
labyrinth
,
ManchesterCT
,
Silk
,
SilkCity