In April of this year, I reached out to a new brewery that made plans to open in Sturbridge, MA.  The person I met was Bob Bixby and the brewery was Altruist Brewing.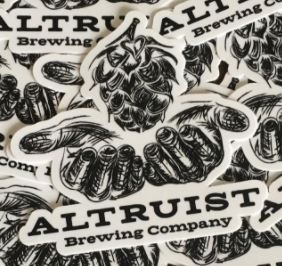 I had only written a few stories for my blog when I first met Bob.  I should also note I had just created GotHops.blog a month prior.  Altruist Brewing was my first legitimate brewery interview and blog post.
Since I live in Sturbridge, it was easy for me to swing by the brewery to offer any help I could give.  I would always sweeten the offer by having some quality brew in hand to share.  I take no credit for anything because I probably did more drinking and watching but I was always happy to help.
It's been 8 months since that interview and I am excited to announce Altruist Brewing is finally going to open to the public this Friday on December 15th at 5pm.  GotHops.blog would like to give owners, Nancy, Bob, and Chris, who tirelessly constructed a brewery while working full time jobs, a hardy Congratulations!!!
Check out my blog post from June ALTRUIST WANTS TO BRING YOU GREAT BEER… to get a look and feel for the then.  Click the link below for opening night pics to get a look of the now.
Oh…if you get a chance to talk to Bob and Chris this weekend, ask them about the evening when we were installing a bathroom partition wall.  Funniest sh*t ever!!! 🙂
Altruist Brewing can be reached at…
www.altruistbrewing.com/home
twitter.com/altruistbrewing
www.instagram.com/altruistbrewing
Like what you read?  Feel free to comment at the very bottom or reach out to me at beerme@gothops.blog
You can also find my other posts and pics on Twitter and Instagram.
Twitter – _@GotHops_
Instagram – @gothops.blog
Thanks for reading and have a great day!
Cheers!