The year 2020 will definitely be a year most will want to forget!  COVID-19 has certainly been difficult for everyone and for many reasons.  My memory races all the way back to a mid-'70s fuel shortage to remotely come close in comparison to what we are experiencing today.  As with most things in life, this will pass and better days will be ahead of us.  Do your best to be supportive, be kind, and have patience.  This one is going to take a lot longer than an oil embargo and long gas lines at the gas station.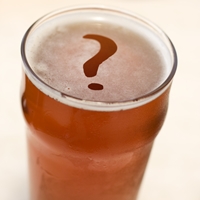 In an attempt to help the beer community just that little bit, I pieced together a new segment called Seven Question Beer Sunday.  The effort behind this endeavor is to help you acquire a more enlightened look at some of the people in the beer world.  Some you know, might recognize, or will want to follow.

This is how it works: I send seven random beer-related questions to random beer people.  They answer those seven questions, anyway they desire.  Some of the replies have been short & quick; some have been long & detailed.  The focus is to get a glimpse of that person beyond their awesome beer tower and brewery photos.  Don't get me wrong, I love seeing all those pics!  I find the written word, seen with your eyes, read with your mind, could be more telling and just as fun.
I want to personally applaud those beer peeps who did not hesitate for a second to participate.  As always, a big thanks to everyone for your continued support.  I truly hope you enjoy the responses as much as I did.  If you want to be featured, send me a DM or reach out to me via email.  The more the merrier!
Look for new responses every Sunday.  Starting us off this week will be submissions from @chrisbeerfridge & @maltymaiden
Until then, cheers! 🍻
Like what you read?  Feel free to comment at the very bottom or reach out to me at [email protected]
You can also find my other posts and pics on Twitter, Instagram & Facebook.
Thanks for reading and have a great day!
GotHops.blog
Tags:
#beerbloggers
,
#blogger
,
#craftbeerblogger
,
#sevenquestionbeersunday
,
beer
,
breweries
,
brewery
,
craftbeer
,
Hoppy