Todd, Jared, and Eric, otherwise known as Rustic Brewing, located in the Indian Orchard neighborhood of Springfield, Massachusetts, is today's Seven Question Beer Sunday participants.  This also marks the first time (and hopefully not the last) we have professional brewers getting in on some Sunday fun!
Truth be told, I've known Todd for several years, just about the time the three went pro.  For a brewery that makes very sought after beer, Todd is very approachable, honest to a fault, grounded, and loves the beer community.  He is also a regular attendee of the beer shares I have in Sturbridge, MA.  I always look forward to hanging out with him while drinking great beer!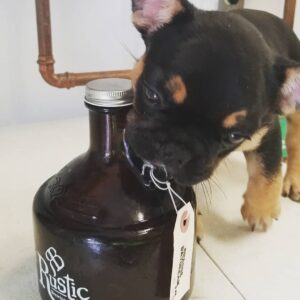 I met Jared thru Todd while at the brewery, along with his playful brewery doggo, Rémy.  Jared is just as grounded, personable, and fun to talk to as well.  As for Eric, I know he exists, I've heard great things, I'm sure he adds to the chemistry that throttles Rustic above and beyond the rest.  Sadly, I've never met him.  Maybe he will make a surprise appearance at a future beer share.  Ya…let's stick with that!  Haaa!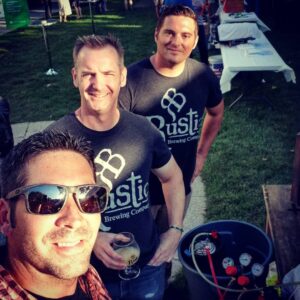 One of my favorite Breakfast at the Brewery events was at Rustic.  Jared and Todd were extremely hospitable and no one wanted to leave after the event was done.  Once COVID is over and gone forever, a revisit for BATB at Rustic is a must!
As their website proclaims "We are three friends who are truly passionate about beer…We love what we do and we hope the passion we have is reflected in the beer we make."
Cheers to that, Rustic! 🍻
GotHops.blog
_______________________________________________________________________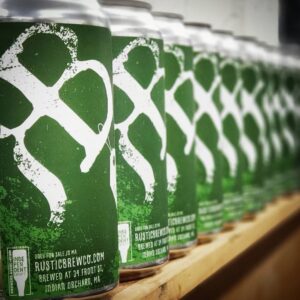 What is your name and location?
Todd – Western Mass
Jared – Rustic Brew Co in Western MA
What is your day job?
(T) Depends on the day, somedays its Rustic Brewing other days it is Telecommunications.
(J) Construction supervisor.
What is your blog, Instagram, Twitter, or Facebook sites?
www.rusticbrewco.com
@rustic_brewing_company
Rustic Brewing
Want to plug your side hustle?
(T)  Haha for us Rustic is still technically a side hustle.  (editor note: all three owners have full-time day jobs)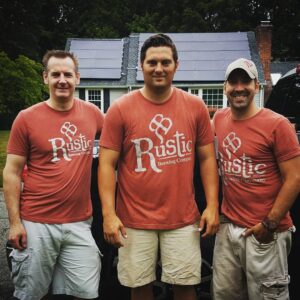 1 – Are born on dates on a can important to you and why?
(T)  I wouldn't say they are the most important thing, but for certain styles aka IPA's its nice to know where in the stream of time you are drinking it.
(J)  Not necessarily but it is nice to know how old it is and how well it held up.
2 – What beer style would you like to see go away and never come back?
(T)  Lagers…Just kidding. My friends would say that because I joke about them all the time, but really no style I can think of.
(J)  Gruit.
3 – Ever been to a brewery in Europe, if yes which one?
(T)  No.
4 – Ever take craft beer with you on vacation?
(T)  I try to never vacation without it.
(J)  Yes, I took Rustic with me to Puerto Rico.
5 – Describe your best brewery experience?
(T)  I like a comfortably crowded brewery that is relaxed with a nice flow for ordering and getting your beer. Also, it is great when the staff loves to talk about the brewery and beer.
(J)  We went to Seattle and a guy saw my Tree House shirt at his local brewery. He struck up a conversation. He ended up bringing us to his house-made dinner and showed us he just traveled back to Seattle with a checked bag full of Massachusetts beers. It was a cool connection a t-shirt could make.  (editor note: buy that SWAG, beer friends)
6 – Ever drink a pint of Guinness while wearing green?
(T)  No.
(J)  Yup, at a red Sox game with a scoop of icecream. (Guinness Float).
7 – Your go-to beer while playing in the snow and cold weather?
(T)  Depends on the activity. Right after pond hockey…PBR, sitting by a fire in the snow…or a nice stout.
(J)  KBS Stout.
_______________________________________________________________________
Look for these future responses from the following for SQBS soon…
Part 10
Part 11 – Could be you?
____________________________________________________________________________
If you want to be featured, send me a DM or reach out to me via email at [email protected].  Feel free to comment at the very bottom if you want to see more!
You can also find my other posts and pics on Twitter, Instagram & Facebook.
Thanks for reading and have a great day!
Ed-
Tags:
#beerbloggers
,
#blogger
,
#craftbeerblogger
,
#sevenquestionbeersunday
,
beer
,
breweries
,
brewery
,
craftbeer
,
Hoppy