Today's edition of Seven Question Beer Sunday (Part 8) features @mommybeerest (aka Julia) & @tyler_routh.  I've had the opportunity to meet Tyler several years ago while in California, courtesy of my day job that lends itself to travel on occasion.  He was awesome to hang with, can definitely talk beer, very funny, and if you ever get the chance to meet him, ask to see his busted finger…LOL!  A little side note; Tyler is also a foodie and loves to cook.
Unfortunately, I've never met Julia but I hope to make it back out to the west coast soon to meet her in person.  Regardless, I get a peek into her personal world via a chat group we both belong to.  That is where I discovered she has been a contestant on Cup Cake Wars several times…and won!  Don't believe me, here is the proof at 1:41 in this short clip.
Needless to say, both are fantastic people who actually met on that very chat group I mentioned above.  Sometimes fate, even in a beer world, works in mysterious ways!  A big thanks to both for their contributions and support!
Cheers 🍻
GotHops.blog
____________________________________________________________________________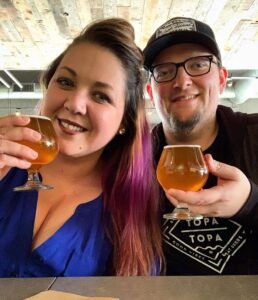 What is your name and location?
Julia Maria-Sanchez San Bartolome and I am from Ventura County, Southern California.
Tyler Routh from Los Angeles/Orange County, Southern California.
What is your day job?
(J) I own and operate a boutique bakery in Westlake Village.
(T) Photo editor for a large eCommerce retailer
Where can we find you on the socials?
Instagram @mommybeerest
Instagram @tyler_routh
1 – What was the first beer you ever had and how old were you?
(J) I snuck a 40 oz corona to my boyfriends' house when I was a senior in high school. First craft beer was about age 32 – at Institution Ale Company.
(T) The first beer I ever had was a Budweiser at age 21 with some coworkers.
2 – Your go-to snack while having a beer?
(J) Wow, what a question! Food is everything in my world, so I have a hard time picking a favorite. When I am out, definitely love chicken wings or a nice warm pretzel. At home one of my favorite snacks to make with a cold beer are gourmet pizza bagels. At the beach or outdoors, there is always chips and salsa or guacamole.
(T) Whatever is within reach! My go-to is usually tacos/nachos or whatever the food truck is slanging at the brewery.
3 – Ever have Three Floyds Dark Lord? If yes, what did you think?
(J) Absolutely not. I don't like the barrel-aged beers – but I did know a Floyd once 😉
(T) I have not, but Zombie Dust is great! (editor note: it sure is, Tyler)
4 – What beer style would you like to see go away and never come back?
(J) Well, since I already confessed that I don't like any of the barrel-aged stuff, I guess my next least favorite would be a session IPA. They are often so watery and I have never had one that is exciting. It's kinda like a pretzel with no salt…. A hot dog with no ketchup… Cake with no icing…
(T) This is too hard to answer, even the styles I don't usually like, I have had decent versions of. How about 4loko?
5 – Do you own a beer fridge or mini-fridge?
(J) Yes! It's a small one, and I got it so my kids would stop bitching that there is no room in our main fridge because of all my beer! It is unique in that it only has black and white stickers, except one or two from Faction brewing.
(T) Yup, a mini.
6 – Most famous or most celebrated beer person you have ever met?
(J) You, duh. (editor note: awwwe 💕)
(T) Greg Koch from Stone Brewing.

7 – What is your opinion of standing in line to purchase beer at a brewery?
(J) I personally have only done it once or twice – mostly because I work weekends and that seems to be when the releases are. I mean, everyone should do what they want – 6 feet apart of course.
(T) Get there early, and don't be in a rush. Go with friends, or max out and share the haul! These days it's mostly online sales though…
____________________________________________________________________________
Look for these future responses from the following for SQBS soon…
Part 9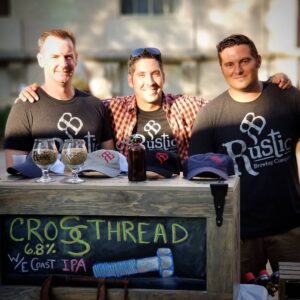 The boys from @rustic_brewing_company
Part 10
Part 11 – Could be you?
____________________________________________________________________________
If you want to be featured, send me a DM or reach out to me via email at beerme@gothops.blog.  Feel free to comment at the very bottom if you want to see more!
You can also find my other posts and pics on Twitter, Instagram & Facebook.
Thanks for reading and have a great day!
Ed-
Tags:
#beerbloggers
,
#blogger
,
#craftbeerblogger
,
#sevenquestionbeersunday
,
beer
,
breweries
,
brewery
,
craftbeer
,
Hoppy