Pictured below are some of the nicest people you can meet in the beer social world.  I give to you @beernarrator (aka Scott) and @mustlovebeeranddogs (aka Kim and her husband, John).  They are our featured guests for (Part 7) of Seven Question Beer Sunday.
While at Great Awakening's soft opening, there was a discussion about friendships that have been formed via this beer culture we now live in.  Scott, Kim, & John are no exception to that beer friendship rule.  I have known all for several years and have consumed everything from IPA's to Stouts while in their presence.
Scott and I would occasionally meet for a beer at establishments that are close to both of us, like the Public Kitchen in Wakefield, MA, and The Yard House in Burlington, MA.  I bequeathed my Monday night trivia show on Instagram to him about a year ago and he has been doing a fantastic job even though it's mostly rigged. 🤣  He has a passion for beer history, a palate for all beers styles, and posts awesome deck pics…deck beer pics!
Kim & John have been to several of my beer shares in Sturbridge, MA, and they have traveled to many breweries together.  At one point, they visited every brewery in Connecticut.  As their Instagram name suggests, both love beer and their fur babies!  When COVID finally loosens its grip, make your way to the beer share to see for yourself how nice they are in person.
Cheers 🍻
GotHops.blog
____________________________________________________________________________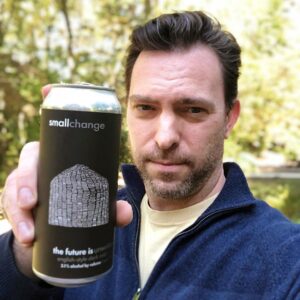 What is your name and location?  My name is Scott, current location, Reading MA, but I need to mention I'm a native New Yorker because when you're from New York, you always mention it.
What is your day job?  I sell protection because it would be a shame if something bad were to happen to your business. That's an Insurance Joke, all kidding aside, I'm a Commercial Lines Insurance broker, which means, I can provide any type of insurance your business may need, to make you whole again and keep your business running when the unexpected happens, and I'm specialized in the medical industry.
Where can we find you on the socials?  I can be found on Instagram as @beernarrator.
Want to plug your side hustle?  Every now and then I do some acting and voice acting. If you live in the Boston area, you just may have seen me in a commercial. Still trying to land the Benedict Cumberbatch body double gig.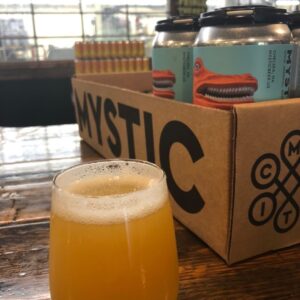 1 – Do you prefer your beer from a can, glass, or bottle, and why?
I definitely prefer to drink from a glass. No offense to John Kimmich at The Alchemist. I like to see the beer, note the color, and get the full aroma with each sip. Engage more of my senses as I drink. Good Beer is meant to be enjoyed, why not treat it as an experience instead of consuming it straight from the package?
2 – Favorite brewery or beer from the West Coast?
The West Coast is no slouch in the beer scene, but I have to go with Russian River. Being a fan of the West Coast IPA, arguably they make the most famous beer of the style with Pliny. Mostly though they get the nod from me after a trip I made last year. I had not seen my Uncle in 13 years and when I got off the plane, he picked me up and we went to Russian River and had a beer together, A beer drinking experience like that has no equal and cements a place in the nostalgia lobe of the brain.
3 – Last time you visited more than two breweries on the same day, and name them?
It was a year ago, August 10, 2019. Did a day trip to Portland Maine with friends and hit up Bissel Brothers, Allagash, Definitive, Battery Steele, Foundation, and Austin Street,
4 – You had your worst day ever, what are you drinking to take the edge off?
As much as I want to say I'd grab my favorite beer, like reaching for an old friend, if we're talking about the worst day ever, I'm not going to lie, I'm grabbing the strong beer in the fridge. Most likely a Triple IPA. There is a chance though that I'd make a Martini. I make a mean Martini combining 2 different gins. It's really good. We can talk more about that over on GotGin.Blog 😉
5 – What dead beer, as in no longer made, would you like to see come back to life?
Oh man, this is a hard one. The questions are getting tough. There are a few, but I'm going with a local beer. Tremont Ale from the defunct Tremont Brewing of Charlestown. And, there is a chance it could happen. Tremont was the first brewery for Chris Lohring of Notch Brewing. I think if we all do a write-in campaign, maybe he'll brew it under the Notch Label. Get out your papyrus, quills, and inkwells ready people!
6 – Have you home brewed beer?
I have not…YET!
7 – How many bottles of beer are in your barrel-aged collection?
I'm answering this late at night and I don't want to wake anybody on the housekeeping staff to go check the cellar for me, so I'll guess. (I hope you know that was a joke, of course, I woke them up).  For actual barrel-aged beers, I think I have 5 or 6. As for other Cellared beers I have waiting for their time, I think I have another 9 or 10. I try to keep the cellared collection small and not get crazy with it.
____________________________________________________________________________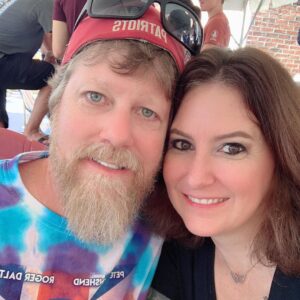 What is your name and location?  John & Kimmy G, New Hartford CT
What is your day job?  Utility Designer and Stay-at-Home-Dog-Mom
Where can we find you on the socials?  @mustlovebeeranddogs
Want to plug your side hustle?  TBD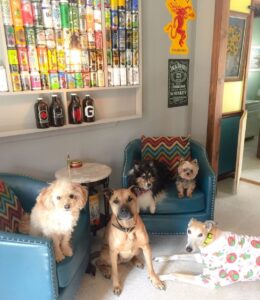 1 – What is your opinion of a soured style of beer?
John: Will drink it, but not my first choice.
Kim: My first choice is always a good IPA, but I am starting to widen my horizons and have tried a few sours. This past weekend I had a Sour IPA from Black Pond Brews that was delicious called "The Bus That Couldn't Slow Down".
2 – Describe your best brewery experience?
We both love to be able to sit outside, listen to some live music, and enjoy good food, good beer, and good friends (by the water is a plus).
3 – Favorite brewery or beer from New York?
Two of our favorites are Other Half and Grimm Ales. Luckily they aren't far from each other, so we can always hit both.
4 – You had your worst day ever, what are you drinking to take the edge off?
One of our favorite go-to beers is Rakautra NEIPA by Back East Brewing. It is fairly easy to find, and super easy to drink.
5 – Ever have Heady Topper from The Alchemist? If yes, what did you think?
This is a great question for us! We actually did a blind taste test with Heady Topper and Focal Banger, both by the Alchemist.  John preferred the Heady Topper from the can, and I preferred Focal Banger from a glass. That being said, we enjoy both beers.
6 – Do you prefer a clear piney West Coast IPA or hazy juicy New England IPA?
NEIPA ALL THE WAY!
7 – Last time you met friends at a brewery since COVID?
We met friends at Back East Brewing on March 14th for their St. Patrick's Day Bash! We have since gone to breweries that are reopened but have gone on our own.
Thanks for including us! Cheers everyone!! 🍻
____________________________________________________________________________
Look for these future responses from the following for SQBS soon…
Part 8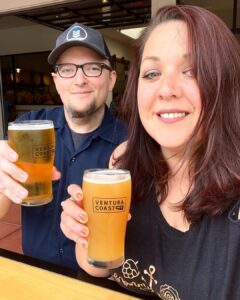 Part 9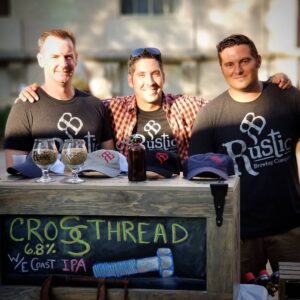 The boys from @rustic_brewing_company
Part 10
Part 11 – Could be you?
____________________________________________________________________________
If you want to be featured, send me a DM or reach out to me via email at [email protected].  Feel free to comment at the very bottom if you want to see more!
You can also find my other posts and pics on Twitter, Instagram & Facebook.
Thanks for reading and have a great day!
Ed-
Tags:
#beerbloggers
,
#blogger
,
#craftbeerblogger
,
#sevenquestionbeersunday
,
beer
,
breweries
,
brewery
,
craftbeer
,
Hoppy