Happy Sunday to all!  I'm a little late on today's post.  Spent the weekend at a wedding in the White Mountains of NH.  More specifically, at a beautiful log cabin on Loon.  So without further delay, today's Seven Question Beer Sunday (Part 6) features replies from @kitten_whiskers_sparkles (aka Jessica) and @cpoirier_1970 (aka Craig).  I've been following Jessica for years, probably since I started my Instagram account.  Same with Craig and I've had the pleasure to meet him several times at my Breakfast at the Brewery events.
Jessica's posts are always fun and she is very easy on the eyes as well so that's a win-win!  Craig's posts are just as entertaining, especially when he is at his Maine getaway, drinking amazing New England beers.  He is also a military veteran so thank you for your service, Craig!  You would not be disappointed if you followed either and I hope you enjoy their responses.  A big thanks to both for their contributions and support!  Cheers friends!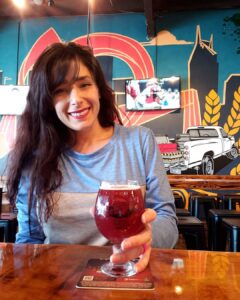 What is your name and location?  Jessica from New Mexico (not Mexico).
What is your day job?  I work at a retail pharmacy.
What is your blog, Instagram, Twitter, or Facebook sites?  I mostly use Instagram for all my beer post @kitten_whiskers_sparkles
Want to plug your side hustle?  I'm an ambassador for Beer-Thirty Apparel, Shirts On Tap, Tavour, Intox-Detox, Coasterfield coasters.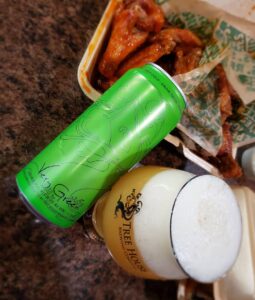 1 – Ever had a Gruit beer and if yes, which one?
Well just had to Google what kind of beer that was and I guess I haven't.
2 – Last time you visited more than two breweries on the same day, and name them?
Went to a distillery called Hollow Spirits then to Bow and Arrow brewing.
3 – Have you home-brewed beer?
I'm the best assistant to the homebrewer there is! (editor note: Her hubby is @irie_viewbrew)
4 – How long will the haze craze last?
Haze whore all day so hopefully never!
5 – Ever have Pliny the Elder from Russian River?  If yes, what did you think?
I have! It was good but I love my hazies over a west coast any day.
6 – Favorite brewery or beer from New England?
That's tough! The heavy hitters are a given but I love the smaller breweries like Wormtown or Forthill!
7 – Ever have Sam Adams Utopias?  If yes, what did you think?
Never had it! Only admired it from posts. Love the name!
____________________________________________________________________________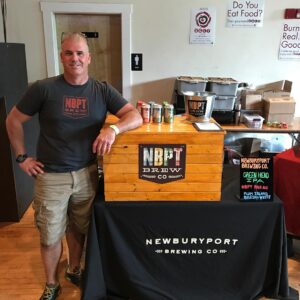 What is your name and location?  Craig Poirier and I live in Newburyport, MA.
What is your day job?  Quality Assurance Manager at Crystal Engineering in Newburyport. We are a metal stamping house that also specializes in Govt/Military prototype machining.
Where can we find you on the socials including Untapp'd?  
IG: cpoirier_1970
Untappd: Phatdog1
Want to plug your side hustle?  No hustle Brah.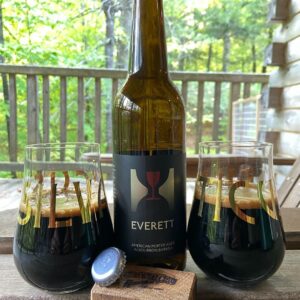 1 – If you had to drink one beer for the rest of your life, what would it be?
Not one by name, necessarily, but style-wise it would be Oude Gueuze. There's just something about the masterful way that lambics can be blended to create such a unique flavor.
2 – Ever been to a Cider House and if yes, which one?
Yes, Downeast Cider, when they were still under the Tobin Bridge. Not much to look at, but some truly tasty ciders.
3 – What is your favorite non-beer related hobby?
Anything & everything related to the outdoors: hiking, fishing, mountain biking, snowshoeing, shooting, survival skills…you know, just prepping for the Apocalypse, hahaa!
4 – Your thoughts of unsupervised children at a brewery?
Not a fan… Having said that, I can appreciate that craft breweries try to appeal to certain demographics and maintain a "family-friendly" environment. Come on folks, it's a brewery, not Chucky Cheese. Perhaps more breweries should think about a balance between "family time" and "adult, I just got out of work after a long day and would like to decompress with a pint, minus the screaming kids running around". There, rant over 🍻
5 – Which style beer do you prefer, IPA or Stouts?
Yes, totally a fan of both! I tend to appreciate the more West Coast style IPAs lately. I also do love me a higher gravity BBA Stout!
6 – How many beer glasses in your collection?
42+ I'm a real glass nerd who strives to have the proper glass for the style. Of course, I've got 2 of each, as my wife is a craft beer fan (just not a dork like me).
7 – Its 90° out, what is your go-to beer?
Tough call…Tributary Pale Ale, Definitive 35 or Bissell Brother Baby Genius.
____________________________________________________________________________
Look for these future responses from the following for SQBS soon…
Part 7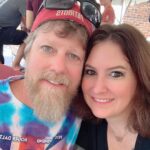 @mustlovebeeranddogs and a few responses from her hubby, John.
Part 8 – Could be you?
If you want to be featured, send me a DM or reach out to me via email at [email protected].  Feel free to comment at the very bottom if you want to see more!
You can also find my other posts and pics on Twitter, Instagram & Facebook.
Thanks for reading and have a great day!
GotHops.blog
Tags:
#beerbloggers
,
#blogger
,
#craftbeerblogger
,
#sevenquestionbeersunday
,
beer
,
breweries
,
brewery
,
craftbeer
,
Hoppy