Today's edition of Seven Question Beer Sunday comes all the way from Florida and Arizona.  Meet Kacie @geeks_and_beer and Justin @bionic_beer_chugger.  The last time I was in either of these states was waaay before all this beer craze madness, courtesy of a yearly conference that found itself in the southern US on the regular.  Shout out now to all you Atlanta-based beer fans.  I'll be coming in hot, February 2022 for that same conference, as long as the COVID variant doesn't take over the world, again!
I've never met either in person but hope to someday.  Kacie has a very active Instagram, posting awesome themed pics with her favorite beers.  The very attractive Star Wars geek is a must-follow IMO, especially if you like beer, breweries, and tattoos.  Justin is just plain awesome!  Standing at 6 feet, his head touches the clouds high, he is a master at chugging, hence the name.  He can go beast mode in a second on any 16 oz beer.  Personally, I like to savor mine but if you got the gift, go for it!
Cheers to both for making the gram an awesome place to meet new beer friends! 🍻
Ed-
GotHops.blog
__________________________________________________________________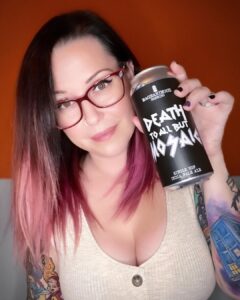 What is your name and location?
Kacie from Orlando, Florida
What is your day job?
Cardiovascular Sonographer
Where can we find you on the socials including Untapp'd?
Insta: @geeks_and_beer
Untapped: @Geeks_and_Beer
1 – How many beer glasses in your collection, which is your favorite to drink from and why?
I have 42 glasses (I actually had to go count) I actually have a couple favorites that [I] go through phases with. My Zelda glass from @glasstomouth.beer is the current go-to, because it holds a full pour and because it's Zelda! I just ordered a Muppets glass, so that might overtake Zelda when it arrives.
2 – Favorite brewery or beer from Canada?
I've actually only had brews from one brewery in Canada, Flying Monkeys. Their Manifesto Chocolate Milk Stout, tastes like spiked Yoo-hoo, delicious!
3 – Ever have Sam Adams Utopias? If yes, what did you think?
I haven't. Do I need to track one down?
4 – If you could only drink 1 beer, every day, for the rest of your life, what beer would it be and why?
Ugh! This is such a hard question to answer because I crave different styles [on] different days of the week. If I absolutely only have one choice, it would be 2 Million Bees and Some Hops from Hourglass Brewing.
5 – Worst adjunct in any beer you have consumed and why?
Cilantro! I hate cilantro in food and it completely overpowers beer.
6 – The brewery taproom has 1 Pilsner, 1 Gose, 1 Barrel-Aged Stout, and 6 IPA's, which one are you getting and why?
A flight of the 6 IPAs, because when push comes to shove, I'm an IPA girl at heart.
(editor note: give me all those hazies!  BOOM!)
7 – Ever have beer delivered to your house? If yes, what was in the box?
Sure, many times. I have several beer pen pals and I've also ordered from Mia Beer Brigade and online stores such as Tavour. My boxes usually consist of a variety of styles with pop culture beer references on the labels. It's just like picking a book in a bookstore, the cover is always the first thing that catches the eye.
__________________________________________________________________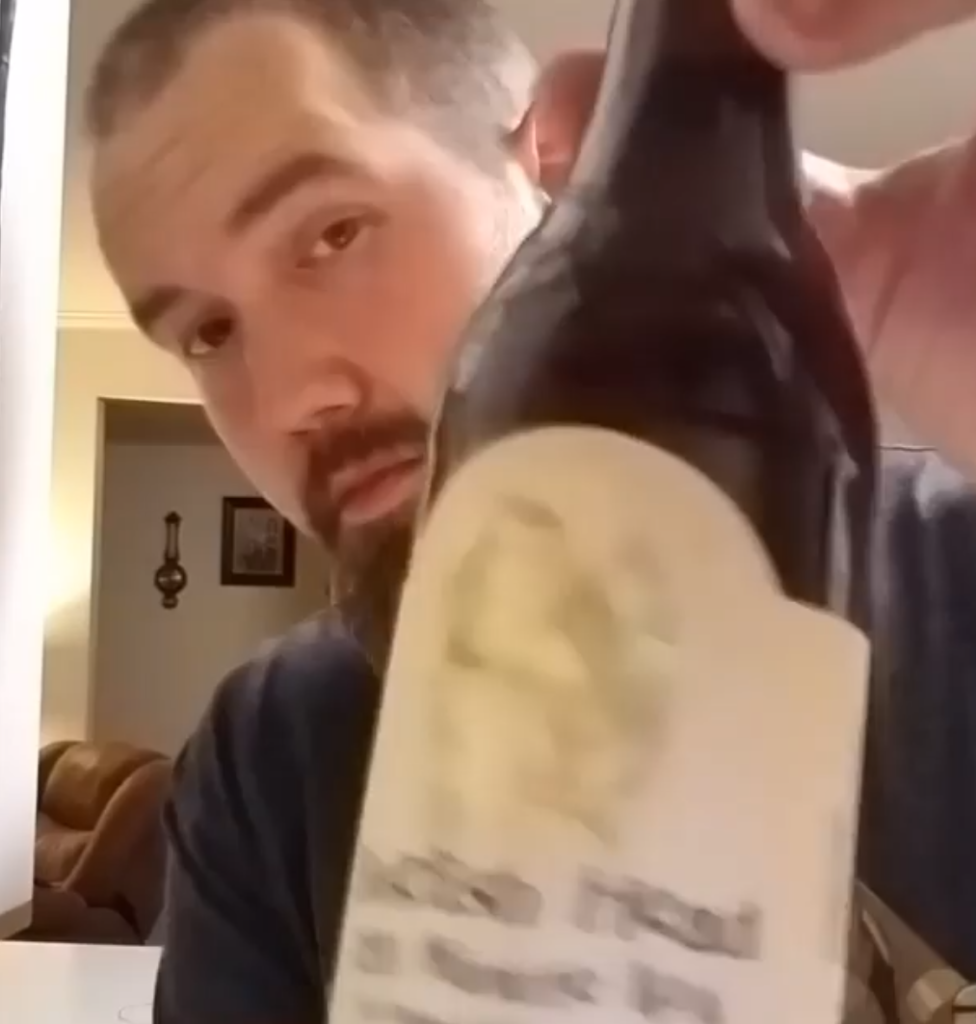 What is your name and location?
Justin and I live in the greater Phoenix area.
What is your day job?
My day job is a night job but I am a dispatcher/route planner for a trucking company.
Where can we find you on the socials including Untapp'd?
I have an untapped but haven't used it in years so plain ol' @bionicbeerchugger on insta it is.
Want to plug your side hustle?
No side hustle, but I need to find one.
1 – Have you ever had beer delivered or shipped to your house? If yes, name the brewery or service?
I have had beer delivered to my house. I used Tavour before it was banned in AZ. I have also ordered from Craft Beer Kings. I try not to order too often, the shipping and prices can be stupid high. I have also ordered from Wren House out here during the pandemic which was pretty reasonable for brewery direct.
2 – What is your favorite beer-related blog or website and why?
Not really a blog guy to be honest. I don't get into the nuances of the industry as much as I should. If I had to choose one though, it would be the beer reviews from Jim Vorel at Paste. He used to work with my wife and really helped me get into the craft beer world and brewing.
3 – Your number one pet peeve at a brewery?
My pet peeve at a brewery has to be dirty glassware. If you are going to take the time to brew an amazing beer take the time to wash your damn glasses and create a proper presentation.
(editor note: especially the lip prints or lipstick on the rim 🤢)
4 – Are born on dates on a can important to you and why?
Born on dates are important to me for IPA's. I want the hops to stand out and not fade. Now with a porter or stout, I personally won't look especially for the higher ABV ones.
5 – Hop Head or Malt Head and why?
I am truly a hop head now. It took me a while to get this way. At one point Chainbreaker was too hoppy and now hit me with all the hops. I love the different character of flavors.
6 – Epic bottle share with friends this weekend, what are you bringing?
What's a bottle share nowadays??? Honestly, I loved getting my hands on Perennial BA and coffee Abraxas to shares. When I can get my hands on it, I love [to] bring a BA Behemoth from 3 Floyd's plus some of the local goodies if I am with people from out of the area.
7 – If you could drink a beer with anyone that is not in your social circle, who would it be and why?
This is the question that is toughest for me I think. It is a toss-up between Corey Taylor or Zakk Wylde. I think the conversation intellectually with Corey would be amazing having read a few of his books but I think it would be a shit show putting a few back with Wylde. That guy is a madman.
__________________________________________________________________
Look for these future responses from the following for SQBS soon…
Part 50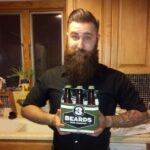 Justin @mrhandiscool, Taproom Manager at Medusa Brewing
Part 51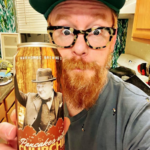 Patrick @benedictbeerblog
Part 52 – Look for an extra special anniversary edition from extra special guests!
If you want to be featured, send me a DM or reach out to me via email at [email protected].  Feel free to comment at the very bottom if you want to see more!
You can also find my other posts and pics on Twitter, Instagram & Facebook.
Thanks for reading and have a great day!
Ed-
Tags:
#beerbloggers
,
#blogger
,
#craftbeerblogger
,
#gothopsblog
,
#sevenquestionbeersunday
,
#water
,
#yeast
,
barley
,
hops