Welcome to the late-night edition of Seven Question Beer Sunday!  When you start your weekend at 12 pm on a Friday afternoon and don't stop until Saturday night, sleeping in on Sunday is a must!  But alas, here I am 'cuz the beat must go on!  Today's SQBS guest loves her furry four-legged best friend, outdoor adventures, and of course, breweries.  Meet Boston native, Kellee aka @beersips.
After scanning thru Kellee's pics on the gram, one would assume her job must be something related to the outdoors.  They are filled with pics at the beach and snow-covered mountain trails, and admittingly, I am somewhat envious.  We have never met but you have to love her beer-filled sense of adventure.  If your idea is to get out and explore, then Kellee is a must-follow!
Cheers to fun-filled days and awesome experiences, accompanied by a beer (or three)!
Thanks for the support, Kellee!  Keep being awesome! 🍻
Ed-
GotHops.blog
__________________________________________________________________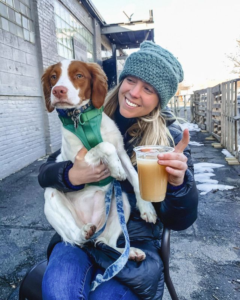 What is your name and location?
Kellee, Boston, MA
What is your day job?
Business Analyst for a shoe company
Where can we find you on the socials including Untapp'd?
@beersips — insta and untapped
1 – Favorite brewery or beer from Florida?
I have a friend who lives in Tampa, so I tried Jai Alai on tap before it was being distributed and absolutely loved it! Although a couple years ago I took a trip through the panhandle and stopped at Perfect Plain Brewery in Pensacola. I loved their vibe and their beers. Also, you can't beat having perfect weather year-round to sip some beers outside.
2 – What dead beer, as in no longer made, would you like to see come back to life?
Mystic Brewery, oh how I miss you so. This was located near me in Boston and closed down in Sept 2019. They had the greatest selection of beers, from IPA's, to Porters, to Sours and I would love it if anything came back to life by them. It also had such a great setup, where you walk in and the floors are sticky from beer spills, people bringing in their dogs and their own food, and to top it all off, a Nintendo 64 in the corner playing Mario Kart on an old school tv.
3 – Stouts in the blazing hot summer, yes or no and why?
No can do. I am much more of a pale ale, IPA, sour person in the summer. Stouts and Porters are too hefty for me in the blazing summer months. Plus, I live in New England, so since I enjoy stouts all winter, I am always so excited to break out something crushable on a boat when it gets warmer out!
4 – Worst adjunct in any beer you have consumed and why?
Blue Hawaiian Punch. Not only did it taste way too artificially sweet to me, but the beer was blue. I just couldn't get on board with that one, haha.
5 – Ever have Three Floyds Dark Lord? If yes, what did you think?
Uhm, I have not, but now after looking at it, it is something I need to get my hands on!
6 – How many beer glasses in your collection, which is your favorite to drink from and why?
So I have about 20 beer glasses, but my favorite is a gift from one of my friends. She had it custom made to say "beersips" on it and it was so thoughtful of her!
7 – Last time you met friends at a brewery during COVID?
Bearmoose Brewery. It's one my my favorite breweries now, located in Everett, MA. They have a patio outside and a great indoor area. They have food trucks on weekends and are dog-friendly!
(editor note: a big cheers to dog-friendly breweries)
__________________________________________________________________
Look for these future responses from the following for SQBS soon…
Part 46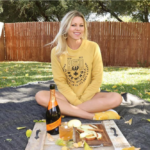 Amanda @theartofbeers
Part 47
Brian Shirley – Owner and Brewer at Time & Materials Brewing
Part 48 – Could be you?
If you want to be featured, send me a DM or reach out to me via email at [email protected].  Feel free to comment at the very bottom if you want to see more!
You can also find my other posts and pics on Twitter, Instagram & Facebook.
Thanks for reading and have a great day!
Ed-
Tags:
#beerbloggers
,
#blogger
,
#craftbeerblogger
,
#gothopsblog
,
#sevenquestionbeersunday
,
#water
,
#yeast
,
barley
,
beer
,
brewery
,
hops