If you have been on the gram for a bunch of years, you most likely follow Ben aka @irie_viewbrew.  If you don't, you probably should!  Today's Seven Question Beer Sunday guest is a dedicated homebrewer, always posting some of the most amazing pics of top-shelf beer.  His trade game is aces and rightfully so with quality breweries such as La Cumbre, Steel Bender, Bosque, and Bow & Arrow in his literal backyard.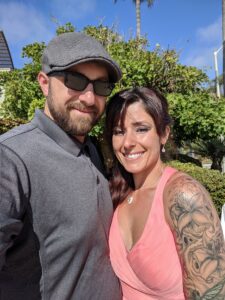 For those faithful SQBS followers, Part 6 featured Ben's beautiful wife,  Jessica aka @kitten_whiskers_sparkles.  And, they had their own Instagram show…drinking beers and getting crazy in thier kitchen.  "Alexa, play _________"  ahhh, the good 'ol days!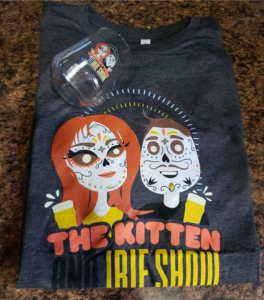 Thanks for the Support, Ben! Much appreciated!
Until next week beer fam!  Cheers 🍻
Ed-
GotHops.blog
__________________________________________________________________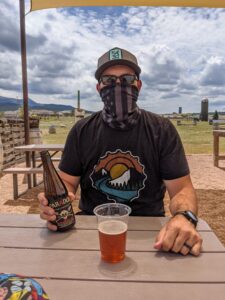 What is your name and location?
Ben, Albuquerque New Mexico
What is your day job?
Retail Store Manager
Where can we find you on the socials including Untapp'd?
irie_viewbrew on all social.
Want to plug your side hustle?
Do collab beer glass drops with Pour_A_Vida from time to time. A new glass is in the works and coming soon. Link to the website is in my bio on Instagram.
1 – Your go-to beer on a scorching hot & humid summer day?
It has to be Ex Novo Perle Haggard. Ex Novo started out in Portland but recently opened a taproom out here in the Albuquerque area. The owner was born and raised here so he wanted to bring a taproom back to his home state and I for one am sure happy he did. Perle Haggard is just the perfectly crisp German Pilsner. Sweet bready deliciousness. Fun fact, it won a gold medal this year at GABF.
2 – Name a brewery you must visit that you have not been to yet?
In the States, it has to be Jester King. I love all the beer that they make. Seeing pictures of their massive farm outside of Austin makes me jealous of all the locals out there. Internationally, it would have to be 3 Fonteinen. We had a trip in the works to go out there last summer but ya know, rona.
(editor note: the Jester King location, as well as the beer, is one of my all-time favorites)
3 – Your number one pet peeve at a brewery?
Breweries that don't serve flights. We plan most of our vacations around hitting breweries in whatever part of the country we will be in. When I go into a new brewery I like to get a flight so I can try all the styles and then chose what pints to get after that. If the brewery doesn't offer a flight, it's usually 1 pint and we move onto the next brewery.
4 – Name the highest ABV beer you have consumed and what was your thoughts after drinking it?
I think it would have to be Black Tuesday or Gray Monday from The Bruery. It was in the 20%-22% range. Immediately after drinking the bottle I felt amazing and decided to keep the party going. The next day I could barely get out of bed I was so hungover. That hangover stuck with me for 3 days it felt like. The Bruery packages those big ass stouts in 16oz cans now so that makes them easier for me to enjoy. Doesn't kill me the next day.
5 – What was the first beer you ever had and how old were you?
If we are going just beer and not craft, it was Budweiser. I was a freshman in high school and me and a friend went over to his girlfriend's house and took some of her dad's beer. I remember drinking 2-3 sips and I couldn't drink anymore. It was the first and the last time I drank a Budweiser. Craft was Fat Tire. When I graduated high school I moved to New Mexico from Wyoming and lived with my older brother. He used to go buy me beer since I wasn't old enough to. He drank Fat Tire so that's what I started on.
6 – Farthest you traveled from home to visit a brewery and what was the occasion?
Jess (my beautiful wife) and I supported Brew Dog on Indiegogo when they were looking for supporters for the hotel they built in Columbus. The level we bought in at gave us a free hotel stay out there. We flew from Albuquerque into NYC and got a rental car to drive to Columbus. We stayed a day in NYC and hit all the top spots like Other Half. Drove to Pittsburgh the next day to hit up all the stuff out there then made our way to Columbus the next day. The stay at Brew Dog was pretty damn awesome. Draft beer in your room, fridge in the shower for shower beers, windows overlooked the barrel room. We would absolutely stay the night again there.
7 – You had your worse day ever, what are you drinking to take the edge off?
I would be reaching for some barleywine. I would need it to be over 15% abv and crushable so I could get it into my body as fast as I can. I have been able to get Revolution's barleywines on the regular lately thanks to a good buddy out in Chicago. For how big of batches they produce, the quality is always top-notch and they really know how to get the most barrel flavors added to their barleywine.
__________________________________________________________________
Look for these future responses from the following for SQBS soon…
Part 44

Andrew Woodward, Co-Owner and Head Brewer at Oakholm Brewing and Shawn @imnotkevinpod
Part 45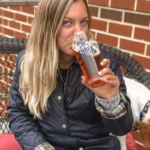 Kellee @beersips
Part 46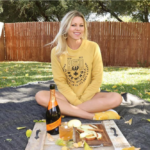 Amanda @theartofbeers
Part 47 – Could be you?
If you want to be featured, send me a DM or reach out to me via email at [email protected].  Feel free to comment at the very bottom if you want to see more!
You can also find my other posts and pics on Twitter, Instagram & Facebook.
Thanks for reading and have a great day!
Ed-
Tags:
#beerbloggers
,
#blogger
,
#craftbeerblogger
,
#sevenquestionbeersunday
,
beer
,
breweries
,
brewery
,
craftbeer
,
Hoppy