One has no tattoos and is a dog mom.  One has many tattoos and occasionally slides a selfie into her mix of pics on the gram with her progeny.  The former lives in the northeast, the latter is originally from the southwest.  What do they both have in common?  Seven Question Beer Sunday, of course!
Leah, aka @pint_size_leah, and Shannon, aka @sashas.world, are ardent fans of the craft known as beer and breweries.  Leah actually works at one.  Ever been to Mechanical Brewery, in Cherry Hill, NJ?  That's where you will find her.  Sasha wants to be in a brewery on the regular but you'll have to keep reading why below 🔽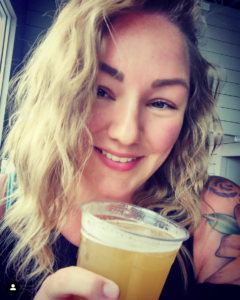 Both have very active Instagram accounts so go give them a follow and watch their journey unfold before you.  Big applause and a hardy thank you to Leah and Shannon for their support!
Happy Father's Day to all you Dad's out there!  Cheers 🍻
Ed-
GotHops.blog
__________________________________________________________________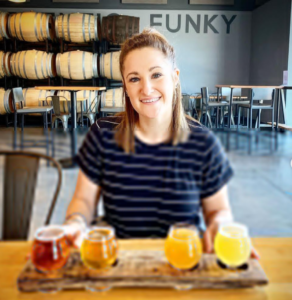 What is your name and location?
Leah from Cherry Hill, NJ.
What is your day job?
I help run Mechanical Brewery.
Where can we find you on the socials including Untapp'd?
[My] Insta and Untappd [are] @pint_size_leah.
1 – How many beer-related hats do you own? Which one is your favorite and why?
My fiancé and I aka @crafty_tats share a massive beanie collection that we've collected over the years from our brewery travels. Although my neon pink Mechanical Brewery hat has become my staple, my Tonewood Brewing hat may be my favorite. It has a wild pattern on it with bright colors and has an adorable Pom Pom on top!
2 – What beer style would you like to see go away and never come back?
Smoothie style sours for sure! Although they're fun to crack open at a beer share here and there, I honestly just find them quite gross. If I can't sit and enjoy an entire can by myself then I can do without it.
(editor note: but exploding cans of beer is fun, said no one 🙄)
3 – Ever been to a brewery in Australia, if yes which one?
I have sadly never been to Australia, but it a bucket list trip for sure!!!
4 – What is your opinion of standing in line to purchase beer at a brewery?
I personally do not have a problem with waiting in line for beer! I find it quite fun and all part of the experience. I feel as though I always meet awesome people in the process as well.
5 – No way or all the way for Brut IPA's and why?
I love brut IPAs. I wish more breweries brewed them! I'd much rather drink a Brut IPA over a "dank" and hazy IPA.
6 – Favorite brewery or beer from New York?
There are SO many incredible breweries in NY. I'd say at the moment I have 5 go tos. [The] first would be Ommegang Brewery. It's forever a favorite of mine. They are yet to disappoint and brew such incredible beer! Obviously Other Half, their stouts are just out of this damn world! District 96 has been making a big name for themselves and it's very well deserved. Their beers are so solid! Mortalis makes delicious beer and their sours have been hitting all the right spots! And lastly, Thin Man definitely deserves some love as well! I'm happy that they've been distributing down my way because their beers are so solid!
7 – If you could get a tattoo of any brewery logo, what brewery would it be and where would you place it?
So, unlike my fiancé who is COVERED in tattoos, I have zero!! It's hard to say what brewery I'd love to tattoo on my body [because] honestly my love for certain breweries changes every day. But I'm definitely not opposed to putting a beer hop somewhere on my body since obviously beer is life!
__________________________________________________________________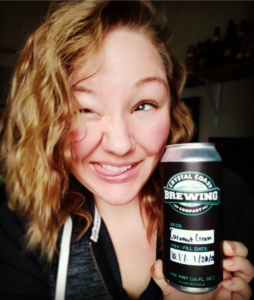 What is your name and location?
So, my name is Shannon aka Sasha and I'm originally from Roswell, New Mexico. The 👽 place, but I currently reside in North Carolina right now with plans to move to Colorado this summer.
What is your day job?
My day job is full time mom to two littles. We have future plans of opening a coffee shop/brewery in Colorado, so home brewing and practicing recipes is the side job.
Where can we find you on the socials including Untapp'd?
My socials are sashas.world on IG and Sashas World on Untappd.
Want to plug your side hustle?
No side hustle yet, but follow along for future details on Naked Gnome Brew Co!
1 – Favorite brewery or beer from Canada?
I honestly have not had much beer from Canada. I think I need to up my game and branch out! But I have had beer in Iceland and my favorite was a beer called Polar Beer by Sídan.
2 – Ever have Three Floyds Dark Lord? If yes, what did you think?
I have never had Dark Lord but I have had Zombie Dust and it was fantastic and I understand why everyone raves about it.
3 – If you could only drink 1 beer, every day, for the rest of your life, what beer would it be and why?
If I could only drink 1 beer for the rest of my life it would have to be Strike from Cycle Brewing out of Florida. This collaboration beer is an imperial stout with Ugandan Vanilla beans and makes me drool just thinking about it🤤
4 – Have you ever had beer delivered to your house? If yes, what was in the box?
I have never ordered beer but I have had porch bombs. The BEST will always be when I received my first ever Pliny the Elder from Russian River from a very dear friend for my birthday!!
(editor note: 9 out of 10 beer peeps would agree)
5 – What is your opinion of beer rating apps and websites such as Untapp'd, Ratebeer, etc.?
My opinion on beer rating apps. I honestly don't really pay much attention to them other than to help me keep track of what I have and haven't had and what I thought about a specific beer. I have a terrible memory so that comes in handy often being able to look back haha.
6 – You are at ________ Brewing and a customer rolls by with 9 cases of beer, what is going thru your mind?
I would definitely be at The Veil out of Richmond, Virginia solely because their beers are amazing and it's not uncommon to see people buying CASES AND CASES from them. Yes, they are that good and people used to wait in massive lines. I'm not a huge of the whole beer mule thing that goes on, however, I do know that people want to try all of these cool and unique beers, and sometimes that's the only way they get the opportunity to do so.
7 – Your go-to snack while having a beer and why?
My go-to snack for beer is definitely pretzels. Either hard, small pretzels or soft, salty german pretzels. I'm a traditionalist and don't like to eat while I'm drinking or vice versa. I feel too much that food covers flavors. But a pallet cleanser is often a necessity, especially with the dark stouts that I LOVE and prefer lol!!
__________________________________________________________________
Look for these future responses from the following for SQBS soon…
Part 43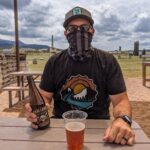 Ben @irie_viewbrew
Part 44

Andrew Woodward, Co-Owner and Head Brewer at Oakholm Brewing and Shawn @imnotkevinpod
Part 45 – Could be you?
If you want to be featured, send me a DM or reach out to me via email at [email protected].  Feel free to comment at the very bottom if you want to see more!
You can also find my other posts and pics on Twitter, Instagram & Facebook.
Thanks for reading and have a great day!
Ed-
Tags:
#beerbloggers
,
#blogger
,
#craftbeerblogger
,
#gothopsblog
,
#sevenquestionbeersunday