This week's Seven Question Beer Sunday guest is Mark Avery, Owner & Head Brewer of Two Weeks Notice Brewing & Jose aka @sdbeerdude82.  Mark being a North Shore kehd means he is truly a Masshole.  He has such an incredible journey to get that pro brewer level, he could probably write a book about the experience.  Nonetheless, he is an awesome soul of a human, now making great beer in Western, MA.  Someone I always look forward to seeing in person.
Calling Southern California home with over 1000 followers on the gram, Jose is definitely pushing that beer community needle forward!  He has the most epic beer hauls and his porch bombs pics are phenomenal.  His answers to my SQBS were very interesting, I hope you think so too!
Cheers beer friends 🍻
Ed-
GotHops.blog
_____________________________________________________________________________
What is your name and location?
Mark Avery formally of the North Shore of the great state of Massachusetts!
What is your day job?
Used to be inside sales for an industrial tooling company but I gave my Two Weeks Notice (see what I did there?) over a year ago. Living the dream.
Where can we find you on the socials including Untapp'd?
The usual, FB/Instagram, I have an untappd but never use it anymore.
@twoweeksnoticebrewing
@mark_avery226
@twoweeksbrewco
Want to plug your side hustle?
I hustle every day!
1 – What dead beer, as in no longer made, would you like to see come back to life?
Are there actually dead beer styles anymore? I feel like brewers are so intrigued with different styles it's hard to find one that hasn't been brewed recently. Off the top of my head, I can't think of a "dead" style but a style I would like to see more of is Steam beers. Anchor Steam is one of my favorites and I don't see a ton of breweries making that style. I just love drinking easy-drinking beers, especially at the end of a brew day.
2 – Stouts in the blazing hot summer, yes or no, and why?
A big pastry stout? Absolutely not. But a good flavorful low abv stout is always a welcome alternative during the summer. I just can't wrap my head around drinking an 8% stout with adjuncts on a beach, haha!
3 – Your go-to beer while playing in the snow and cold weather?
The first one I see in my fridge when I finish snow removal or the first cold IPA when I get off a mountain.
4 – The name of your favorite gastropub with the best tap list and where is it located?
Armsby Abbey and Prohibition Pig. Armsby Abbey for their overall selection of beers and unreal food. Prohibition Pig for their amazing Bbq and ALL the Vermont beers.
5 – You had your worse day ever, what are you drinking to take the edge off?
Big Riff our 9% DIPA. I've literally cracked one of those after a horrible day and made the pain go away.
6 – Ever had a Gruit beer and if yes, which one?
I'm almost positive I tried one at a beer fest, but we all know what happens at beerfests (remember those?)
7 – Describe your best brewery experience?
Spending the weekend in Vermont with my beautiful wife for our anniversary a few years ago. We hit as many breweries as possible but I always think back to us hanging out at Foam [Brewers] in Burlington. The beers speak for themselves but the overall vibe of that taproom, the patrons, the music, and my wife just made it all that much more enjoyable. I hate using the term "life-changing" because that sounds extreme but I definitely left that place inspired and wanting to bring that same vibe to our taproom.
(editor note: I've been to Foam…I along with many others totally understand that Foam vibe)
_____________________________________________________________________________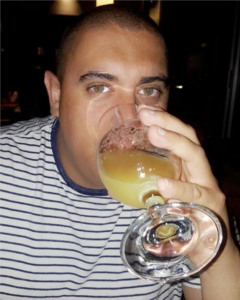 What is your name and location?
Jose Cruz and I currently live in San Diego California.
What is your day job?
My current job is a bank teller
Where can we find you on the socials including Untapp'd?
My Untappd is @Jcruz82 . IG is @sdbeerdude82
1 – Stouts in the blazing hot summer, yes or no, and why?
Definitely drink a nice stout during the hot summer because why not. I need something strong and delicious to go with mint chocolate chip ice cream.
2 – What are your three favorite beer styles?
Sours, IPA & Pilsner.
3 – Your go-to beer while having dinner?
I guess it's a California thing but Pliny the Elder seems to be my go-to whenever I have dinner.
4 – What is your opinion of beer rating apps and websites such as Untapp'd, Ratebeer, etc.?
Since I'm [on] Untappd I find it somewhat useful & hilarious at the same time. I had a guy who got mad at me on how I rated a Monkish can a 3 and not a 5. Well at the time I rated all my beers the same even the bad ones and now for spite I rate them all at 4 and give tiny descriptions on how they taste, lol.
5 – Describe your best brewery experience?
Best brewery experience I had was waiting nearly half a day at Electric Brewing. They had their first collab with brujos coming out along with some other TIPA. They gave out wristbands at 10am but the release wasn't until 1pm. Anyhoo, met some cool people in line and shared some beers and then got my wristband and then my wife and I went down the street to 8bit Brewing. The food was excellent and their beers believe it or not are a little bit better than Electric. Needless to say, I met some cool people at Electric and have drank some fantastic beers I never think I can get my hands on.
6 – Name the most expensive beer you ever bought and was it worth it?
The most expensive beer purchase I did was on some 450 North cans right at the height of them blowing up I paid something like $100 for 8 cans and honestly, it was not worth it. The guy did a pretty crappy job at packing and couldn't even save me a can of some slushy that people were going crazy for so he gave me 2 of their IPA's and they were blah. Never again for 450 or from that dude.
7 – What dead beer, as in no longer made, would you like to see come back to life?
The beer I would love to see rise from the dead would honestly be anything from Toolbox Brewing. They close their doors down for good some years back but they put out some amazing beers. They were well known for their milkshake IPA's & sours. If they were open today they probably be easily in top 5 breweries in all of San Diego. If they got back together the first beer I would love to have again was "Honeybird" barrel age sour ale with wildflower honey & blackberries aged in French white wine barrels for 2 years.
_____________________________________________________________________________
Look for these future responses from the following for SQBS soon…
Part 42
Leah @pint_size_leah and Shannon @sashas.world
Part 43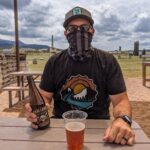 Ben @irie_viewbrew
Part 44

Andrew Woodward, Co-Owner and Head Brewer at Oakholm Brewing and Shawn @imnotkevinpod
Part 45 – Could be you?
If you want to be featured, send me a DM or reach out to me via email at beerme@gothops.blog.  Feel free to comment at the very bottom if you want to see more!
You can also find my other posts and pics on Twitter, Instagram & Facebook.
Thanks for reading and have a great day!
Ed-
Tags:
#beerbloggers
,
#blogger
,
#sevenquestionbeersunday
,
hops