If you have never been to Nashville, TN and like history, a wide variety of music, beautiful countryside back roads, and some of the best food eva, then just go!  Nashville would easily qualify for the city that has it all, breweries included.  Southern Grist, Bearded Iris, Black Abbey, Various Artists are a few of my favorites but there are plenty more.  Today's Seven Questions Beer Sunday guests know all about Nashville beer scene.  Meet Grant @grantsgristmill and Jessie @localbrewdude.
Grant might live in the South but his love of sports hangs on everything Boston.  His other IG page (and still active sans beer pics) is @gpulse24.  Many of the images are adorned with Patriots, Red Sox, Bruins, or Celtics references in the form of a hat, jersey, or shirt.  I actually met Grant while in Nashville, just before COVID took its grip on the world, at Bearded Iris's 5-year Anniversary celebration.  Apparently my sticker made the cut to be placed on his favorite water bottle. 💗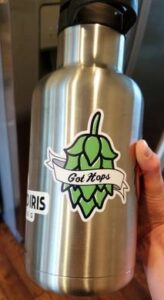 Jessie's Instagram page is full of awesome beer pics and he is very active with over 700 posts.  Way to push that craft beer community needle forward my dude!  We've had several conversations and agreed to do some trading when the opportunity presents itself.  I'll admit I am rather excited about this opportunity.  I would much rather go to Nashville but this will help fill that Nashville beer scene void I crave.  Thanks a ton, Jessie!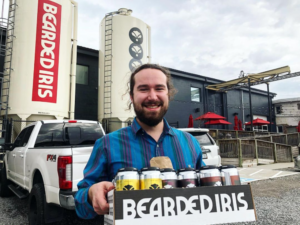 Cheers to another awesome beer week 🍻
Ed-
GotHops.blog
_____________________________________________________________________________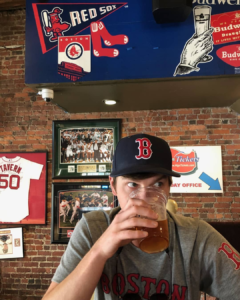 Name and Location?
Grant from Spring Hill, Tennessee.
What is your day job?
I work for the Tennessee Department of Agriculture as an Ag Marketing Consultant. I work with the Tennessee Agricultural Enhancement Program, TAEP for short. We help Tennessee farmers enhance their agricultural operations by providing funding to qualified producers.
Where can we find you on the socials including Untapp'd?
Instagram; @grantsgristmill @gpulse24
Untappd; @grantsgristmill
1 – Have you ever assisted a professional brewer to brew beer at a brewery? If yes, which one?
I have not assisted a professional brewer in brewing beer at a brewery, but this is something I could see myself doing at some point. I always joke with my wife that if I get fired I'm going to go work for a brewery and learn to brew the finest fermented fluids on the earth. If I could choose a brewery, it would be one of the following: O'Dell Brewing Company in Ft. Collins, CO, Bearded Iris Brewing Company in Nashville, TN, or at the Maine Beer Company.
2 – When not drinking beer, what is your go-to beverage?
When not drinking beer, my go-to beverage is hot black coffee or iced water. I'm 30 years old but I'm an old man at heart. At a previous job, my coworkers nicknamed me Grandpa! I also love seltzer water, but NOT spiked seltzer…
3 – Which style of beer do you prefer, IPA or Stouts and why?
IPA's are mostly what I drink. When I first started enjoying craft beer, I was living in Laramie, WY going to school at the University of Wyoming. My girlfriend (now wife) and I would take regular trips down to Ft. Collins and visit the O'Dell Brewing Company. Their beers were very hop-forward, so I took a liking to IPA's. This was before the "haze craze" so I was drinking a lot of West Coast style IPA's. My favorite back then was their O'Dell IPA. Whenever I go home (Cheyenne, WY) that's all I drink because I can't get it in Tennessee unless I do some trading.
4 – The world is ending and you can only choose one to drink; Keystone Premium, Natty Light, or Bud Ice?
Yikes… I would only drink those if the world was ending and the only way I could save it was to drink one of those! But if I had to choose, I'd take the Keystone Premium since that was a beer I drank lots of my freshman year in college for the sheer fact it's cheap as hell. I'm a sucker for nostalgia from time to time, but it's going to have to be dire circumstances for me to choose any of those beers. Haha!
5 – If you could drink a beer with anyone that is not in your social circle, who would it be and why?
I would want to pop a few beers with David Ortiz. Not only would he be fun to drink beer and smoke fat stogies with, but also he's one of the most legendary sports figures from my time as a Boston Red Sox fan. He seems like a really down-to-earth, awesome guy!
(editor note: loved by many here in New England, could run for Governor, and probably win)
6 – Your favorite or last shower beer?
Last shower beer was Bell's Two Hearted. If I had to go for my ideal shower beer, it would be something crispy and light. If you haven't had Pep Talk from Bearded Iris, do yourself a favor and crack one of those in the shower!
7 – Hop Head or Malt Head and why?
If it wasn't already apparent from my previous answers, I'm a total hop head. I just like that there are so many different varietals of hops that impart such intense and unique characteristics to beers. I also like to think that hops are to beer as grapes are to wine. That analogy was stolen from a t-shirt I saw at the Sam Adams brewery, but I think it holds true. While I am definitely a hop head, I do like to work in some variety to what beers I like to enjoy. If I had to choose a style that I like just as much as IPA's and Pale Ales, I would say Marzens. I love the Fall and I love drinking a lot of them around that time of year.
_____________________________________________________________________________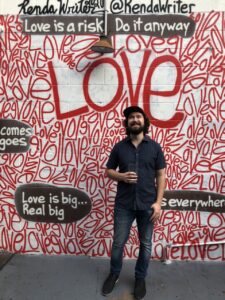 What is your name and location?
My name is Jesse, and I'm based in Nashville, Tennessee.👋
What is your day job?
I manage marketing operations at a classical music record label.🎶
Where can we find you on the socials including Untapp'd?
I'm @localbrewdude on Instagram and @localbrewdude Untappd!🍻
Want to plug your side hustle?
I play piano professionally on the side, and sometimes post music things at @jessebobick.🎹
1 – The brewery taproom has 1 Pilsner, 1 Gose, 1 Barrel Aged Stout, and 6 IPA's, which one are you getting and why?
I'm a flight guy all the way, so if I had the opportunity to pick the typical four brews, I'd probably go for the barrel-aged stout, two IPAs, and the gose, especially if it was a fruited gose. However, if the brewery didn't have flight options, I'd probably go for a pour of the barrel-aged stout – I'm always interested in seeing how breweries approach barrel aging.
2 – Ever been to a brewery in Iceland, if yes which one?
I have been to a brewery in Iceland actually! I visited Iceland in 2017 with my girlfriend (we got engaged there, so she's now my wife!), and we visited Ölverk Brugghús (@olverkbrugghus on IG) after swimming in a natural hot spring! Ölverk had just opened a few weeks before we visited, and we were one of the first people to try their beer on draft, which was a pretty awesome experience! (And their pizza was amazing too!) Iceland's craft beer scene is a lot younger than most because beer wasn't even legal there until 1989, but we loved all the beer we had over there.
3 – Name the highest ABV beer you have consumed and what were your thoughts after drinking it?
I think Dogfish Head's World Wide Stout and 120 Minute IPA tie at 18% each. Both were crazy flavorful, and I really enjoyed both of them. The 120 Minute IPA tasted more like hop wine to me with a ton of boozy caramel flavors and some deeper hop flavors but without as much of the hop bite. World Wide Stout was a transcendent behemoth of a stout, with a crazy amount of rich, roasty, chocolatey-ness and a ton of barrel flavor too. Fantastic tasting experiences, but also nice to split!🤪
(editor note: I have several bottles of 120 aging on a shelf, would agree 100% with boozy)
4 – Your go-to beer while golfing, playing softball, fishing, etc.?
So I just went golfing for the very first time, and I really enjoyed having Monday Night's Lay Low IPA on the green – it's light, crisp, refreshing, but really flavorful, even though it's only 3.5% ABV. Definitely, one I could keep flowing throughout the day!
5 – Which style of beer do you prefer, Pilsner or Sour and why?
I'd have to go for Sour. Pilsners are always pretty safe, but I don't remember having a Pilsner that totally knocked it out of the park for me. If I get a Sour, worst-case scenario, it might be a little too sour or funky for me, and best-case scenario, it's a thicker fruited sour with a ton of fresh fruit flavor. Either way, with a sour, I at least know that the flavor experience will be a little more interesting!
6 – Your thoughts on unsupervised children at a brewery?
I'm not a parent, so I'm probably not qualified to answer this one. However, I do appreciate family-friendly breweries that offer games, food, and non-alcoholic beverages for kids — it's one of the things that make breweries such a fun, positive environment. But adults should probably still keep an eye on their kids.
7 – How long have you stood in line to get beer and was it worth the wait?
I've never stood in any crazy long lines for beer releases, and with so much online pre-ordering (especially with the pandemic), big lines have probably become less common for beer releases. The closest thing was when I picked up beer from 450 North Brewing last summer – I had already purchased the beer so I wasn't worried about it, but we waited in our car for like an hour before we got our beer because there were so many people. It was definitely worth it though!
_____________________________________________________________________________
Look for these future responses from the following for SQBS soon…
Part 38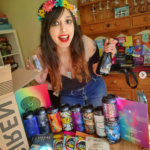 Part 39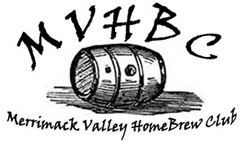 Shenanigans from the crew over at @MVHBC
You can also check them out at @strikemashboil
Part 40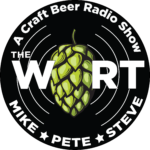 Part 41 – Could be you?
If you want to be featured, send me a DM or reach out to me via email at [email protected].  Feel free to comment at the very bottom if you want to see more!
You can also find my other posts and pics on Twitter, Instagram & Facebook.
Thanks for reading and have a great day!
Ed-
Tags:
#beerbloggers
,
#blogger
,
#craftbeerblogger
,
#nashvilleTN
,
#sevenquestionbeersunday
,
beer
,
breweries
,
brewery
,
craftbeer
,
Hoppy