If there was ever a brewery that I wish was in my backyard, like literally, it would definitely be this weekend's Seven Question Beer Sunday guest, Little House Brewing, located in the heart of the charming New England town of Chester, CT.  The two-story modest colonial and very dog-friendly brewery is definitely one of my favorite places to visit.  On several occasions (pre-covid) the taproom was packed tight with people imbibing while enjoying the quaint atmosphere that Little House natural offers.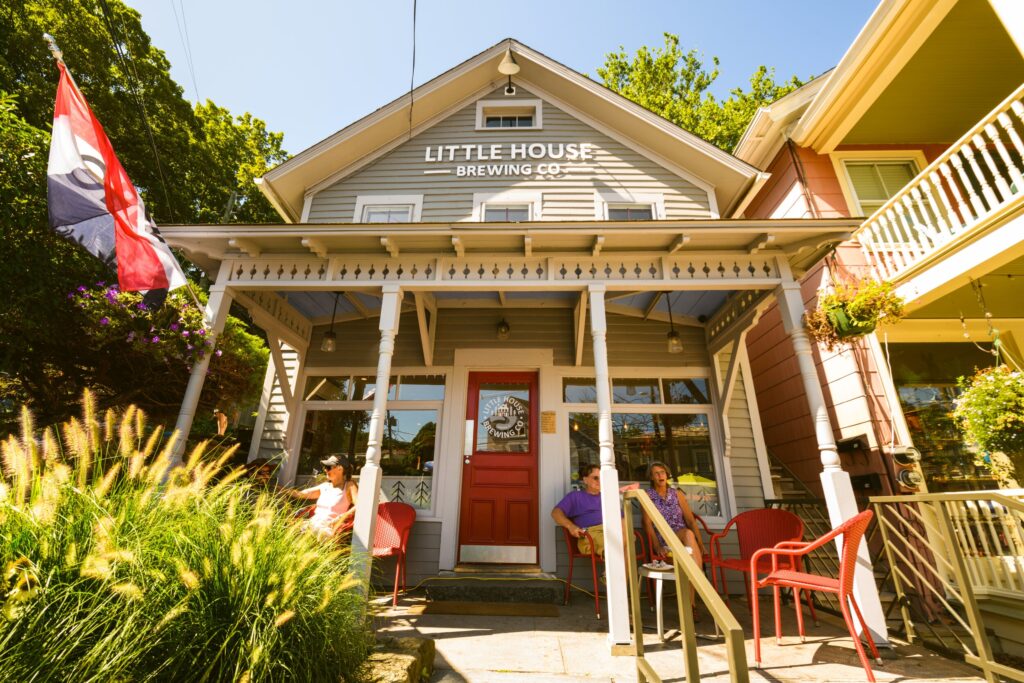 As of my last visit in October 2020, they now have a lot more outside seating behind the brewery.  So fear not, Little House might be, well, little, but they can accommodate.  Get there early enough and you might score a seat on the front deck.  Watching the hustle and bustle of downtown Chester will become your own personal time machine experience.
The staff is always super friendly, brew dogs included!  Their Instagram posts are creative and fun, with a delicate balance of serious but not too serious.  Don't believe me?  Just look for their April fools post.  Genius!  As for their beer, they offer just about everything a wide palate craves.  I've never been disappointed with anything I've tried and I doubt you will either!
A big thanks to the team (Christina, Gabriel, Sam, and Carlisle) over at @littlehousebrew for their awesome submission.
I think it's time I swing by for another visit…Road Trip!
Cheers my beer peeps 🍻
Ed-
GotHops.blog
_____________________________________________________________________________
Little House Brewing Co. – Chester, CT
Instagram & Twitter: @littlehousebrew
Facebook: www.facebook.com/LittleHouseBrew
Untapp'd: untappd.com/LittleHouseBrewingCompany
Christina – Old Lyme, CT
Day Job: Assistant Brewer & Assistant to the Taproom Manager at LHBC
Social: I've taken a big step back from social media… You can follow me on Instagram at @cjcado but I post more for my golden retriever at @bigrig_rigby than on my personal.
Gabriel – Old Saybrook CT
Day job: Taproom Manager / Full-time student
Social: @GabrielFlugrad
Sam – New Haven, CT
Day Job: Owner/Brewer at LHBC
Social: @sammy_swagner / @kirbysteals
Carlisle – Chester, CT
Day Job: Home Brewer and Ceiling Dweller at LHBC
Social: @UncleCarlisle
1 – What dead beer, as in no longer made, would you like to see come back to life?
Christina: The only dead beers I can think of just so happen to be getting a second chance at life. The original beers are Ten Penny and Dirty Penny from Olde Burnside Brewing Co. here in CT. Recently, East Hartford Brewing Group picked up the recipes. I haven't been able to try their reincarnation yet but it's really about the nostalgia factor for me. This was one of the first craft beers my dad would drink. I remember drinking this with him and then being sad to hear Olde Burnside was closing. Now it can be a trip down memory lane, thanks to EHBG.
Gabriel: I am relatively new to the beer scene and so I honestly can't think of any beers that have died out.
Sam: Bad Dream Brewing, out of New Milford, brewed some great brews that aren't around anymore… Unfortunately, they closed their doors for the last time just before the pandemic. It would be great if they could come back! Other than them I would have to agree with Gabe on this one. Though I've been around the beer scene a bit longer than him – but in any case, I think the great part about the newest wave of craft beer is that no beer really ever dies. A given recipe might only ever come around once every couple [of] years, but it always shows its face at some point or another. The concept of dead beer is, well, kinda dead itself!
Carlisle: Pong Beer. It was the cheapest swill we could find one year in college, and fueled a season's worth of Cross Country team parties. It tasted like water-gone-bad but was something like 11 bucks a 30-rack, so it got the job done.
(editor note: in the early 90's we had keystone light or busch lite draft…cheap but effective and for the true savage…Boones Farm anyone?)
2 – The brewery taproom has 1 Pilsner, 1 Gose, 1 Barrel-Aged Stout, and 6 IPA's, which one are you getting and why?

Christina: I have more questions… what's in the gose? Is there a West Coast IPA on tap? I've been on a bitter kick lately… but if we're talking about the LHBC taproom, I'm going with a Pilsner. I think we've really worked hard to perfect our lagers. Chester's water has almost nothing in it, so it's a great starting point and we've been naturally carbing our lagers lately too. On a plus side, it's a beer I can drink during my shift while still being coherent enough to manage table service.
Gabriel: Definitely going for the Pilsner. I want to see what the company is able to produce for a clear crispy boi.
Sam: Always the lager! Hardest to brew. Easiest to enjoy. Best judge of a brewery's abilities.
Carlisle: Pilsner or BA Stout. You can't hide anything in a lager, so that's a great way of seeing how attentive-to-detail that brewery is. And a BA stout because I'm a dark beer fan.
3 – Your go-to beer on a scorching hot & humid summer day?

Christina: Something light and refreshing. Little House's Tommy's Tangerine Explosion (Tangerine Wit Beer), Beer'd's Cold As Weisse Margarita Series, East Rock's Vienna Lager. I've taken Tommy's when kayaking and it's really the perfect beer for a summer night on the water.
Gabriel: I honestly love a hazy IPA on a nice summer day or a crisp Belgian Wit.
Sam: Kölsch, or maybe a nice tart wheat ale if I can't find a good Kölsch nearby.
Carlisle: A margarita.
4 – Do you prefer low abv beers or beers with more than 8% abv and why?

Christina: I prefer lower ABV beers but the beers I've been drinking recently aren't far below 8%. I like to be able to have a beer or two without feeling weighed down. I think once you get over that 8% the beers get heavier, there's sometimes that alcohol burn. I'm not opposed to sharing the bigger ABV beers every once in a while though.
Gabriel: I think I typically go for higher octane beers since I prefer having less liquid compared to more when it comes to alcohol. That being said, a nice crisp lager is one of my favorite flavors for a beer.
Sam: I could go either way. As long as it's made well by good people – I'm not picky!
Carlisle: Lower ABV for sure. I can't handle the heavy hitters the way I used to, and I love seeing the amount of flavor that brewers are packing into more sessionable beers.
5 – Ever have Pliny the Elder from Russian River? If yes, what did you think?

Christina: I have not had Pliny the Elder. The closest I got to Russian River was over five years ago now, on a road trip from Lake Tahoe to San Francisco. We planned to make the detour but left Tahoe too late and the brewery closed way before we were rolling through.
Gabriel: I have not but I'm definitely down to!
Sam: I had it at GABF about 5 years ago now. Honestly, I was underwhelmed, but let me explain: Having a very-hyped beer for the first time is always an interesting experience. Will it live up to the hype? Can it possibly live up to the hype? I think it can, as evidenced by my first experience tasting Heady Topper after moving to the East Coast. I was so ready for that beer to disappoint – but it didn't! Pliny the Elder was a great example of the opposite situation. It was fantastic, and a great representation of what the style should be. However, I was expecting more aroma and less harshness on the back end from the heavy dry hopping. Hey – maybe I've just had too many NEIPA's at this point! Again, I also had it at GABF… in a crowded convention center, after having several other beers. I'd love to give it another shot. You got any?
(editor note: Nope but I did buy a case of PTE when I visited the brewery several years ago.  The entire day is actually an interesting story, ask me next time you see me)
Carlisle: I worked a beer fest years ago at Ski Sundown…it poured rain the whole day, but at the end, all the breweries had a soggy bottle share. I had about 2 ounces out of wax-paper cup after trying a bunch of other whales, so I can't make an honest assessment…I remember liking it, or thinking I liked it?
6 – Best gateway beer to introduce to your non-beer drinking friend and why?

Christina: I go for those beers that don't taste like beers; sours, goses, beers brewed with champagne yeast. I feel like those are good gateways for people that like ciders, wine, or fruity alcoholic drinks. My mom is one of those people that doesn't like beer because it "tastes and smells like beer". My husband got her to drink more than one sip of a cherry lambic and Little House sealed the deal with Falcon Kick, our kettle-soured IPA with strawberries and lime. So I rest my case with my test subject!
Gabriel: I think my go-to is an easy drinking larger because it's so basic and has approachable flavors. I would alter this if I knew that they liked a specific drink to try and meet their expectations.
Sam: Such a tricky question! I want to offer them something that brought me into craft beer such as Sierra Nevada or Victory Ales, but I'll be the first to admit that those probably aren't the best choice for someone who drinks alcoholic beverages but hasn't gotten into beer yet. With that said, I have the perfect, absolutely definitive answers: Either Bell's Oberon or Allagash White. Nobody can say no to those. Nobody.
Carlisle: Style-wise, Brown Ales. It's such a versatile style, so you can find one that fits almost anyone's palette.
7 – Your go-to beer while having dinner?
Christina: This is another one that depends on my mood, what I'm eating, and what's available to drink. I'm more of a social drinker and I honestly don't drink much at home. We also haven't been out to eat much at all in the last year with the pandemic, so I'm not getting dinner out and having a beer then. I've really only been drinking when at the brewery. So when I'm having dinner here, I'm typically drinking a lager, our brown ale, or most recently our old school IPA. Those are usually paired with burgers, pizza, or Thai food from the restaurants near the brewery.
Gabriel: Depends on the dinner. But, a German lager goes a long way and I'll usually be happy with Helles.
Sam: Whatever is in the fridge… Just kidding (am I?). I would go for a Munich Helles or a Brown Ale, depending on what's on the menu. In some cases a nice zippy pale ale with some balanced bitterness really hits the spot. I would say, in most cases, NOT a juicy IPA, heavily fruited sour, or pastry stout. Those can stay away until dinner's over!
Carlisle: Brown ales, again.
_____________________________________________________________________________
Look for these future responses from the following for SQBS soon…
Part 37
@grantsgristmill and @localbrewdude
Part 38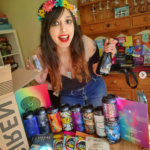 Part 39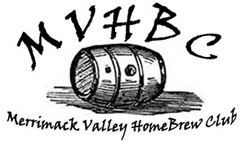 Shenanigans from the crew over at @MVHBC
You can also check them out at @strikemashboil
Part 40 – Could be you?
If you want to be featured, send me a DM or reach out to me via email at beerme@gothops.blog.  Feel free to comment at the very bottom if you want to see more!
You can also find my other posts and pics on Twitter, Instagram & Facebook.
Thanks for reading and have a great day!
Ed-
Tags:
#beerbloggers
,
#blogger
,
#craftbeerblogger
,
#sevenquestionbeersunday
,
beer
,
breweries
,
brewery
,
craftbeer
,
Hoppy