If you haven't noticed, a big thing happened this week.  Have no idea what I'm talking about?  Just click here or here.  Still confused?  It seems there are a few in our beloved beer community that do not behold the belief to treat humans with respect.  I won't get into here because I don't want to take away the spotlight of our Seven Question Beer Sunday guest and this subject truly deserves its own blog.  I'll just paraphrase from a post on the gram that my good friend @ChrisBeerFridge eloquently said, "…don't be an a**hole!"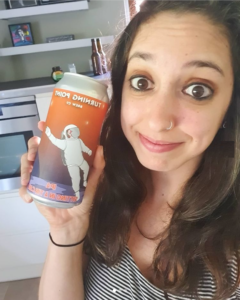 Today's edition of SQBS comes from the land of Red Coats, Royals, and Beatles.  Say hello to Tori, aka @adventures_in_hoptimism.  Tori is definitely pushing the beer community needle forward with her own blog page, podcast, and YouTube channel.  There's not much more I can say other than to read her replies below.  When I initially tell those that want to participate to just let go and be in the moment answering the questions, Tori, as any blogger would do, totally let go!  This is how you do it, khed!
Thank you, Tori and cheers 🍻
Ed-
GotHops.blog
_____________________________________________________________________________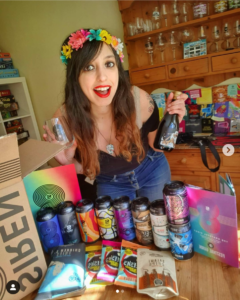 What is your name and location?
Tori – I live in the Berkshire area of the UK (But originally from the North shore area in MA – I traded one country's Reading for another).
What is your day job?
I'm a project manager in Telecoms
Where can we find you on the socials including Untapp'd?
I'm on @Adventures_In_Hoptimism on IG & @x0Kiss0fDeath on Untapp'd
Want to plug your side hustle?
You can find me on any major podcast platform or Youtube for my podcast A Woman's Brew with my cohost Joanne. I have a blog linked in my Insta bio with posts to take you to the episodes when they're released and her beer school with some additional educational content (that sometimes links into our podcast) can be found on Instagram at @LoveBeerLearning.
1 – What is your opinion of standing in line to purchase beer at a brewery?
This is a tricky one because I do see and hear about people queuing hours on end for the limited edition beers in the US at Breweries. Here in the UK – at least to my knowledge and firsthand experience – we do more "virtual queuing" or placing orders in a first come first serve approach. Even pre-covid, when you could go to breweries directly, I've never heard of people queuing for hours for a beer release. I don't see why the digital format isn't the way to go for everybody (pre or post covid) with limits on how many bottles per person can be purchased because not everybody has the ability to queue on a particular date and time. I couldn't personally imagine unless there were promises of free snacks, beers, and other goodies to make it more worthwhile and entertaining, however I feel like a hypocrite because if you told me there was a new restaurant that had a 1 – 1.5 hour wait (like a Franklin's BBQ type place) and it was something I really wanted to try, I would probably do it without thought. I've queued to watch and meet musicians for an hour or so without hesitation. Why should beer be any different if you are really dedicated to it? Saying that, I personally cannot think of any beer that I could be bothered to queue that long for as it feels like there is always a new "hype" beer around the corner to take its place.
2 – Your number one pet peeve at a brewery?
Over here in the UK, one of my biggest pet peeves is the refusal to make pumpkin /pumpkin spiced beer by so many. To be fair, those that do try don't tend to produce a product that is comparable to the US versions as it's just a difference in taste buds overall between the US and UK market. But the fact that it gets shut down by so many at even the mention is no fun. On a serious note though, in terms of visiting a brewery itself, there are a few things that aren't really in their control, but are still frustrating. My number one is when a brewery is off the beaten path with no public transport or even shuttle bus that takes you to their location as it forces you to drive and then you shouldn't then drink and drive home. If you take a cab, you are going to end up spending so much more than you expected for a day/night out and will end up leaving maybe earlier than necessary to guarantee you aren't without a ride in a remote location. Remote locations can make for gorgeous scenery, but would really encourage breweries in these types of locations to offer some type of shuttle service to/from the closest public transport to at least give people an option.
3 – Your go-to beer while having dinner?
I don't actually tend to drink *while* eating dinner unless I'm out at a restaurant (what are those!? people used to actually eat outside their homes? Get out!). I do sometimes have beers while making dinner though that can end up slipping into dinner if I can't drink it fast enough. While I can't really name a specific go-to beer itself as I love trying new beers all the time, I can say that it'll always be something lighter and more sessionable that will pair well with a whole host of different flavours (usually a session pale / IPA). If I'm actually intending to eat while drinking a beer, it's going to be a one-off beer that I've specifically paired with the food (like I once had a Curry that I paired with a Mango and Saffron Donut Lassi Gose from Turning Point Brewery and it was just a gorgeous combination). For a bit of added background, it might be a bit different here where there's a lot more single can/bottle sales from breweries while in the US you get a lot more 4 and 6-packs which sort of help to drive the idea of having "go-to" beers. Not to say it doesn't happen over here, but because there are more sold singularly and on smaller batch releases, it encourages you (even subconsciously) to try more different beers than to turn reliably to one fridge filler.
4 – Do you have a bucket list beer destination and if so where?
I love to travel so it's really hard to name just one destination. Apologies in advance as I'll name a few… I LOVE Japan and Omnipollo has now opened up a location in Tokyo. The craft beer scene over there has really taken off in the last few years so I would love to go back for a third time and do a proper craft beer exploration (either starting or ending at Omnipollo). There's also the new Omnipollo brewery and taproom they've built inside an old church in Stockholm that looks gorgeous and definitely somewhere I want to visit as soon as the world starts returning to normal. Another plan I've been wanting to do for a while is to take a road trip throughout Europe as there are so many amazing beer destinations – like Maltgarden in Poland – that I would love to tick off my list of places to visit. To stay closer to home given the uncertainty of Covid as well as to recommend destinations for any readers not from here, places in the UK that I want to tick off are Leeds, Manchester, and York as well as go back around the Bermondsey Beer Mile in London as those are some of the bigger "hot spots" for craft beer at the moment (and if you're thinking of visiting, close to me in Berkshire there are a lot of breweries as well so you could get London and Berkshire area ticked off your list in 3 days from a beer only perspective).
5 – Ever been to a Cider House and if yes, which one?
Yes! I've been to Hawkes Cidery & Taproom in London as part of the Bermondsey Beer Mile crawl (see above recommendation). I just went to the taproom bit as opposed to doing a tour and seeing any of the actual fermentation gear. I'm not as big into cider so I've never really felt the urge to go on a proper tour, but I will say that Hawkes is really good at playing with flavours to get it away from the stuffy, traditional tastes you quite often picture getting over here.
6 – How many bottles of beer are in your barrel-aged collection?
At the moment, 12 that are specifically barrel-aged but 23 total that are in my bottle collection. The barrel-aged are mostly of the stout variety, however, I have a Trillium ale (Fated Farmer Chardonnay 2020) that was barrel fermented in a chardonnay barrel that I picked up recently and a barrel-aged sour from Pomona Island (La Caida 2019) that was also aged in a chardonnay barrel. The majority of my BA stouts and barleywines are from Siren Craft Brewery (one of my local breweries). Outside of my barrel-aged collection, the other bottles that I've been keeping in that same cupboard are mostly sours from Vault City with a bottled porter here and there. Thankfully you've not asked me to account for my beer collection as a whole as I'd be embarrassed to share how many I have unopened in my house at this moment…😂
7 – Name the most expensive beer you ever bought and was it worth it?
Omnipollo – Bianca (PB&J Lassi Gose) for £18 (about $25) as I bought it from a 3rd party shop. There might've been another more expensive one, but I can't remember it. Was it worth it? Hmm..it was a really well-executed (and filling) beer but I can't say I would pay £18 for another one despite wanting to try the other varieties of Bianca. In an ideal world, they'd release the "Bianca" range in smaller cans (330ml / less than standard 12oz) at lower price points (or in a tasting set) and I would buy that as it would allow for sampling the thick beauties without going broke buying each big can individually (they are normally 500ml / 17.5oz).
_____________________________________________________________________________
Look for these future responses from the following for SQBS soon…
Part 39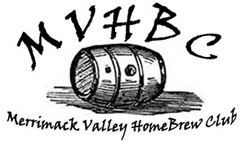 Shenanigans from the crew over at @MVHBC
You can also check them out at @strikemashboil
Part 40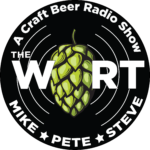 Part 41 – Could be you?
If you want to be featured, send me a DM or reach out to me via email at beerme@gothops.blog.  Feel free to comment at the very bottom if you want to see more!
You can also find my other posts and pics on Twitter, Instagram & Facebook.
Thanks for reading and have a great day!
Ed-
Tags:
#beerbloggers
,
#blogger
,
#craftbeerblogger
,
#sevenquestionbeersunday
,
beer
,
breweries
,
brewery
,
craftbeer
,
Hoppy