We all know who @beerselfie is on the socials.  Ya know, take a selfie, add the tag, and hope you get featured.  Keith, the person behind the scenes, with nearly 70,000 followers on the gram, is doing it right by pushing that community needle way forward!  I've always enjoyed scanning thru the pics to see if I or any of my friends made the cut.  But, have you ever seen his selfie?  Well, let me show you…tada!  Welcome to the 30th edition of Seven Question Beer Sunday.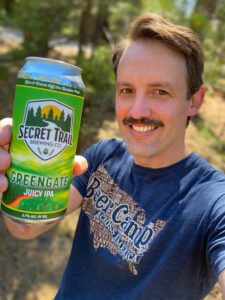 I love Keith's passion for the beer world we all live in.  I think our first connection happened about the time I started my Insta page in 2017.  We've tried to support each other in a variety of ways since.  Most recently with his new series called Behind the Brew.  It's an in-depth take on beer peeps we all follow or know, including yours truly 😎.  His website, BeerSelfie.com is full of interesting articles, merch page included.  If you have ever traded beer with me, you might have had a Beer Selfie sticker in the box, your welcome.
Jackie, better known as @thatonebeergirl has been killing it on the gram with beer pics, many from New England, since 2012!  This blonde, curly-haired beauty, with lots of tattoos, knows a few things about beer.  Always supportive (Friends With Benefits Virtual Sour Fest anyone) and willing to trade beer at a moment's notice.  Speaking of, we have a trade commencing this Monday but you'll have to ask her how that came to fruition…it's actually quite humorous 🤣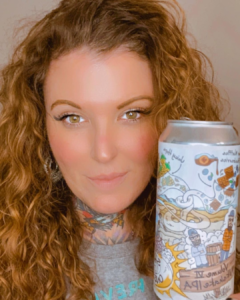 My connection to Jackie is fairly new but like many in this beer community, we have a few similar interests that extend beyond beer.  And…other than the Seven Questions she answered below, you can read more about her, coincidentally, on BeerSelfie's page, by clicking here.
A big thank you to Keith and Jackie for being part of my Seven Question Beer Sunday.
Until next week!  Cheers, beer friends!
Ed-
GotHops.blog
_____________________________________________________________________________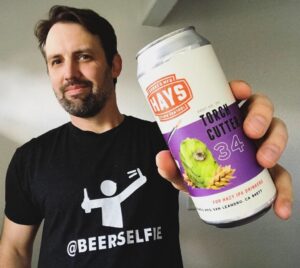 What is your name and location?
Keith from Chico, California.
What is your day job?
Tech support at CSU (California State University) Chico.
Where can we find you on the socials including Untapp'd?
Instagram: @beerselfie @grubulub
Untappd: @beerselfie
Want to plug your side hustle?
I'm working on lots of new content for BeerSelfie.com.
1 – Your favorite or last shower beer?
I love a shower beer! My last one was Sierra Nevada's Wanderland. It's a hoppy Kolsch with nectarines. A fragrant beer like that is perfect for a shower beer. Sorry Ed, I don't have a beer selfie of that one.
(editor note: thanks for NOT sharing, Keith…LOL!)
2 – No way or all the way for Brut IPA's and why?
I don't hate Brut IPAs, and I appreciate the innovation, but they're definitely not a favorite. The dryness and thin body brought out an unpleasant perfumey floral flavor in most of the Brut IPAs I've tried. Maybe it would work with the right hops?
3 – Will there be a brewery bubble in the US and why?
I think we were already there before COVID-19. You were already seeing breweries having trouble increasing their distribution. It seemed like a lot of breweries were having local success, investing in increased capacity, then getting in over their head when they couldn't actually move the beer. COVID-19 may have thinned the herd and reset things a bit, but we'll ramp up toward a bubble again soon.
I think there's room for more neighborhood/lifestyle breweries, but trying to take things to the next level will continue to be a big challenge with so many breweries.
4 – What is your opinion of standing in line to purchase beer at a brewery?
I don't begrudge people that are into that, but I don't do it. There is so much great beer available, I'm not interested in waiting in lines. I will be hitting up the online Pliny the Younger sale though!
5 – Which is preferred, rare shelfies from the bottle shop or freshies from the brewery, and why?
Tough question, I like both! I'll go with freshies from the brewery though. I love visiting breweries and supporting them directly.
6 – What is your opinion of beer rating apps and websites such as Untapp'd, Ratebeer, etc.?
I was an early adopter of Untappd. I like logging the beers I've tried. There have been plenty of times that I can't remember if I've had a beer before, and looked it up on Untappd to see if I liked it. I've also used my ratings to inform "Best of …" articles for BeerSelfie.com.
I don't write many actual reviews though, beyond a score on Untappd. I'll occasionally write a beer review for BeerSelfie.com, or a short blurb for Instagram. There are already so many reviews out there, and I don't have some remarkable palate, so I don't feel like I have a lot to contribute there.
7 – How many beer-related shirts do you own?
So, so many. At least a couple dozen. That's mostly all I wear. I'm wearing a shirt from Shirts on Tap right now. I also have a few Beer Selfie shirts.
_____________________________________________________________________________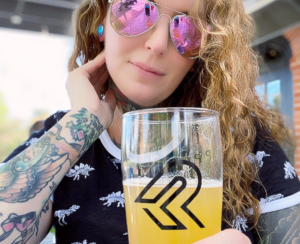 What is your name and location?
Jackie from Virginia
What is your day job?
I work in our local hospital in the pharmacy.
Where can we find you on the socials including Untapp'd?
Instagram and Untapp'd are the same handle: @thatonebeergirl
1 – Worst adjunct in any beer you have consumed and why?
I haven't had many that I remember but as a general rule, I'm usually turned off by watermelon flavor in beer. It's a hard flavor to get in naturally and I feel like it ends up tasting artificial – and maybe that's because the artificial flavoring is used to supplement the lack of flavor in the real thing?
2 – Tell us about the most odd but interesting tasting beer you ever had?
Most people think it's odd but not me – Martin House Brewing's pickle beer. I'm not sure how they do it, but it tastes like straight-up pickle juice and I am hooked. I will always take more of that, room in my fridge or not.
3 – Which style beer do you prefer, Gose or Lager, and why?
Out of these two- I prefer goses. I enjoy the saltiness because I can be salty sometimes 🤣
4 – Favorite brewery or beer from Michigan?
I haven't had much from Michigan (let's change that), but what I have had, doesn't deserve a place here.
5 – Stouts in the blazing hot summer, yes or no, and why?
Stouts always! Because it's always stout season.
6 – Favorite or last shower beer?
My last shower beer was a Blood Orange Gose from Three Notch'd Brewing.
7 – Name the most expensive beer you ever bought and was it worth it?
I don't usually pay an insane amount for one single beer like some other craft beer enthusiasts (no judgment!). Honestly, my most expensive beer would probably be Abraxas from Perennial
_____________________________________________________________________________
Look for these future responses from the following for SQBS soon…
Part 31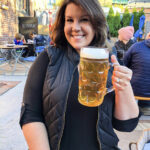 Colleen from @travelikealocalma
www.travelikealocal.com
Part 32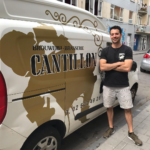 Anthony @stews_brews_n_reviews
Part 33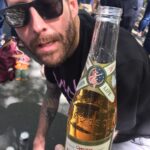 JD @all_the_beer_is_all_for_me
Part 34 – Could be you?
If you want to be featured, send me a DM or reach out to me via email at [email protected].  Feel free to comment at the very bottom if you want to see more!
You can also find my other posts and pics on Twitter, Instagram & Facebook.
Thanks for reading and have a great day!
Ed-
Tags:
#beerbloggers
,
#beerselfie
,
#blogger
,
#craftbeerblogger
,
#sevenquestionbeersunday
,
beer
,
brewery
,
craftbeer
,
Hoppy