Today's edition of Seven Question Beer Sunday just so happens to fall on Valentine's Day.  Fitting in many ways for those that have a love affair with water, barley, hops, and yeast.  The four pillars that make what we know as….beer! 💖

Also fitting is how much I love Amory's Tomb beer, located in Maynard, Massachusetts.  Co-owner and head brewer Allen (pictured below with co-owner & brother-in-law, Rick) make some of the cleanest and favorable beers around the area.  Rumor has it, an Amory's Tomb growler can be spotted in a scene of the movie Super Troopers 2, which was filmed in various locations around Massachusetts.  Guess I know what I'll be watching for the rest of the day meow!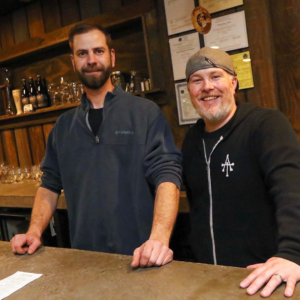 If I have never said it yet, and for those that live in New England, we are extremely lucky that we have some of the best breweries there is at our fingertips.  One does not have to travel too far to get a quality beer.  Whether it be in a can, or a pint, fresh from the tap.  I can (and will) fall in love with that every day!
Thanks a ton, Allen, for your lengthy and very thoughtful contribution to SQBS.
Cheers 🍻
Ed-
GotHops.blog
_____________________________________________________________________________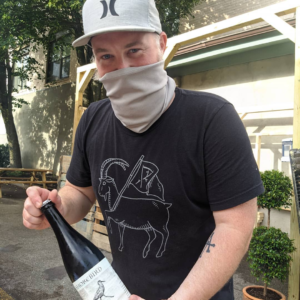 What is your name and location?
Allen from Bolton, MA
What is your day job?
Co-founder/Owner at Amory's Tomb Brewing Co.
Where can we find you on the socials including Untapp'd?
@comrock12 or @amorystomb on Insta and Untappd (barely use the personal accounts these days)
Want to plug your side hustle?
My side hustle is my main hustle as of December, so I'm trying to turn farming into my new side hustle in 2021.
1 – What is your opinion of a soured style of beer?
It really depends. The term "sour" casts a really wide net. From kettle sours and smoothies to Flanders and Lambic (and for some reason any Brett-beer, regardless if it is actually sour?!?), there is just a huge amount of beer flowing under this umbrella. I am more of a traditionalist, and typically prefer aged sours, particularly barrel-aged and spontaneous offerings because of the complexity and nuance they bring forward. Fruit in these versions is generally added as a compliment rather than the star, where a lot of the newer American sours are mostly just fruit purée and lactose masquerading as beer. I used to go for big acidity like Cascade and Upland, and took pride in being able to down something that could clean a penny, but over time my palate (and reflux) have pushed me to lower levels of acidity. Hill Farmstead's saisons and a lot of the Oxbow stuff immediately come to mind as they have the right level of acidity in my opinion, and they fit my palate perfectly. So I guess it's a long answer, but in general I'm a sour fan!
2 – You had your worse day ever, what are you drinking to take the edge off?
If it's the worst day ever I'm probably starting with some bourbon, it gets the job done a little quicker and I rarely get to those bottles anymore, but if I'm looking just at beer, I'm heading right for that bomber of Revolution Straightjacket or Firestone Walker Sucaba. My cellar has dwindled to mostly special beers I can't part with, but there are always a few of these on hand in my house, and I probably wouldn't want to stop at a store if the day was going that poorly.
3 – If you could drink a beer with anyone that is not in your social circle, who would it be and why?
This is a tough one as there are a lot of people I would like to have a beer with (especially right now when I'm missing long pub sessions with spirited conversation) and my social circle online has become mostly brewers whom I deeply admire, but there is no one I would rather chat over a beer with perhaps quite as much as Dann Paquette of Saint Mars of the Desert. Dann's brewing is directly influential in my career, and he is someone who I would love to talk shop and history with.
(editor note: he was definitely influential for many people and never shied away from opinion)
4 – What is your favorite adjunct used in (making or drinking) a stout?
I think you asked me this question on purpose, as I am not a fan of modern adjunct beers whatsoever, but I do really like playing with both coffee and toasted coconut. Coffee blends seamlessly in dark beers, and brings out layers of malt flavors that are often hidden, particularly brown malt. A nice blonde roast coffee can pull graham cracker and hazelnut notes from brown malt in a very luscious sort of way. Toasted coconut brings a whole other realm, adding a level of decadence to a big stout, but the oils can make a beer flabby and it's easy to overdo it. The right amount of toasted coconut carries the aroma into Mounds territory and makes the whole experience much richer and fuller.
5 – If you could only drink 1 beer, every day, for the rest of your life, what beer would it be and why?
I go back and forth on this question all the time, but the one beer I always come back to is Hill Farmstead Edward. It is the perfect hoppy beer, and I cannot pass it up whenever I see it. My buddy James and I talk about this beer all too often, and it's one of the only beers I will buy in a 2L growler.
6 – Describe your best brewery experience
The best brewery experience I have had would have to be a trip to Allagash because they are the most amazing hosts, but it's tough to decide which visit. If you haven't been, the public tour there is absolutely amazing — you get a curated tour with an assortment of samples, and get to drink in the barrel room at the end, and the smells and atmosphere are simply delightful. My wife and I try to go to the brewery at least once a year and usually kill an entire day there. That said, I think the best experience I have had at Allagash would be getting to spend time in the coolship room with my friend Tom and crack a few beers with staff members on a quiet day. That room is magical, and did I mention they are amazing hosts?!
7 – What are your three favorite beer styles?
I love this question! In no particular order, my three favorite styles are Belgian Saison, American Pale Ale, and Czech Pilsner. I love so many different styles, but these three are most certainly the core beers in my life.
Thank you so much for including me, and for the great questions, Sir. I look forward to having a beer together in the not too distant future!
(editor note: you are very welcome but truly thank you.  Ditto on the beer….soon!)
_____________________________________________________________________________
Look for these future responses from the following for SQBS soon…
Part 25
Francesca @sicilianbeerkitten and Zack @bostonbeerjournal
Part 26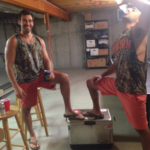 Billy and Greg from @hotter_upper_beer_review
Part 27
Mike, owner, and brewer at @smallchange, and Rob @sdbeertour
Part 28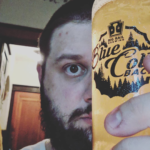 Part 29 – Could be you?
If you want to be featured, send me a DM or reach out to me via email at [email protected].  Feel free to comment at the very bottom if you want to see more!
You can also find my other posts and pics on Twitter, Instagram & Facebook.
Thanks for reading and have a great day!
Ed-
Tags:
#beerbloggers
,
#blogger
,
#craftbeerblogger
,
#sevenquestionbeersunday
,
beer
,
breweries
,
brewery
,
craftbeer
,
Hoppy