Happy Sunday to all and a big thanks to everyone that gave me some constructive feedback, via the gram, on making Seven Question Beer Sunday an even better read.  The most prominent feedback was to highlight just one person instead of two people every Sunday.  It was actually split 50/50 in the poll so I promise to mix it up.
Moving forward, look for responses from either one person, two people, or a group of people.  From the last round of requests I sent out this week, one group submission from a well-known brewery in Fitchburg, MA had me LOL'ing a lot while reading them.  Way to have fun with it beer friends!
Today's Seven Question Beer Sunday guests could be in the running for one of the best-looking couples on the gram.  The beer-loving, self-proclaimed Disney enthusiasts from Long Island are never shy to take a few selfies either.  Meet @fantastic.beers aka Shonah & William.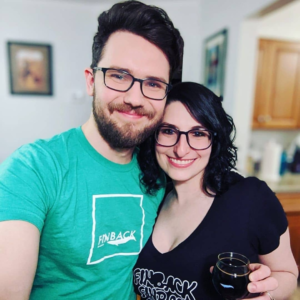 Although they claim they have jobs, they seem to have a lot of time on their hands buying and trading beer.  One look at their Instagram account and you would think the roof on their home is supported by the towers of beer they purchase.  What I am referring to is next level purchases in the thousands, maybe even two!
It's needless to say but they definitely know how to get their follower's attention, all 15k!  Just wait until you see their recent mosaic and carefully constructed tower pic.  While you are there, give them a follow and send a hello.  Perhaps your luck will be better than mine when entering one of their often and epic beer giveaways.
A huge thank you to Shonah & William for taking the time with a very thought-provoking Seven Question Beer Sunday submission.
Cheers 🍻
Ed-
GotHops.blog
_____________________________________________________________________________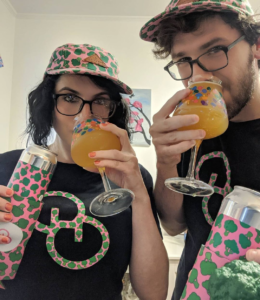 What are your name(s) and location?
Shonah & William, we live on Long Island, right on the border of Queens in NY!
What is your day job(s)?
Shonah – Administrative Coordinator for Neonatology at Cohen Children's Medical Center
William – Recruitment for Arcesium, a Fintech startup.
Where can we find you on the socials including Untapp'd?
We're @fantastic.beers on IG, and magicbubblegirl & gwynws on Untappd.
1 – Which style of beer do you prefer, Gose or Lager, and why?
(Shonah) – Wow, starting this off with a super tough question, huh? If you asked me this a year ago, I'd say Gose right away and move on, but now this is something I have to think about. I love sours and goses, but I think I'd have to go with lagers on this one. They're just so refreshing and pair well with pretty much any food. Aside from that, sours (even goses) recently have turned more into fruit puree/smoothies than beer. There's a time and place for those, but sometimes you just want a BEER, ya know?
(William) – I'm in the same boat. Lager is certainly my go-to these days. I used to crave goses but recently lagers are really hitting the spot. I have a huge weakness for fruited lagers as well. Lime Snaps or Archipelago Breeze, for example. That little bit of fruit kick is the perfect addition. It's only 10:48am right now and I'm already craving one just from thinking about them.
2 – If you could only drink 1 beer, every day, for the rest of your life, what beer would it be and why?
(Shonah) – Another almost impossible question! One of my absolute favorite beers from one of my favorite breweries for the last few years has been DDH Double Citra Daydream from Other Half. Will also used that beer as part of his marriage proposal to me, so it holds a special place in my heart. Other Half kills it every time, and it's pretty much the perfect IPA. It's also a double IPA, so I could probably chug it and get a good buzz going off just one can!
(William) – This is absurdly hard. That's what she said. DDH Double Citra Daydream or Swish for me. Swish was the very first DIPA that I rated a 5 on Untappd. To this day, I would drink a Swish can almost any hour of the day if I could. DDH Double Citra Daydream as well. It's an important beer to me. On the first release, we rushed home and threw a can in the freezer for a few minutes before cracking it fresh as possible. We've been in love with it since.
3 – Have you ever done any beer trading and how many trades have you done?
(Shonah) – Omg, so much beer trading! We actually created our Instagram account because Will and I were trading from the same stash (we share everything), but we were both trading separately on our own IG accounts, and realized it would be easier if we had a joint account to post what we had available for trade. Obviously the account is much more than that now, but that's the start. Since then I've traded a TON through both IG and Facebook. I constantly have trades going with our Aslin, Veill, Trillium, OH Rochester, and Bissell/Tree House traders, as well as setting up random trades for beers we might want. I have a spreadsheet to keep track of everything. There are literally too many trades to count at this point, we've been trading for almost 4 years!
(William) – Beer trading is a huge part of our lives. We made a lot of close friends through beer trading and have stayed active since we began back in early 2017. Our first beer trade was trading Evil Twin stout bottles from Whole Foods to someone in-person in NJ for Trillium cans while we were returning home from a trip to PA. It was certainly an odd experience but we immediately got hooked. It was a huge thrill for us to finally have access to so many breweries we had never considered before. We went nuts at first and traded for practically everything. These days, we try to slow down and not do that anymore.
4 – What is your favorite hop (or hops) and why?
(Shonah) – I'm boring, my favorite hops are probably Citra, Galaxy, and Mosaic. I also love Riwaka, but unfortunately, you don't see that one too often. Since the others are boring, I'll get into why I like Riwaka. It has a kind of dank, grapefruit flavor that made me fall in love with (west coast) IPAs over ten years ago, but still super juicy when brewed in a hazy east coast.
(William) – Huge Citra fan. I know everyone says that but I can't help it. Citra, Riwaka, Idaho 7, Strata. Citra gives me all the orange juice vibes I'm looking for in my IPAs. As for the others, they provide depth and flavor that I just can't get enough of. Strata is a newcomer to the scene but I'm a big fan so far of what I've tried with it from Other Half.
5 – Last time you met friends at a brewery since COVID?
(Shonah) – We met up with 4 of our friends (who are also in our bridal party) for our would-be wedding day on November 13. We met up and started the day at Evil Twin in Queens, then to KCKB in Brooklyn, and ended the night at As Is (a beer bar) in Manhattan. It was right before everything to really bad here again, so we were really thankful we were able to drink with some of our closest friends on the day that we were supposed to get married this year.
(William) – November 13th for our would-be wedding day. We visited Evil Twin NYC & KCBC, two of our favorite spots. ETNYC has been a welcome change of pace to the NY beer scene and we've been massive fans of their work here. KCBC has been a near and dear favorite for us for years. Outside of November 13th, we go to ETNYC for drinks on Sundays with our friend Harlan when we can. That's probably been one of my favorite additions to our life since COVID started.
6 – If you could get a tattoo of any brewery logo, what brewery would it be and where would you place it?
(Shonah) – This is an easy one! I'd get an Other Half broccoli tattoo. Well, it's a half easy one, not 100% sure where I'd put it. Maybe my left forearm? I already have a few tattoos, mostly Disney related, so I'd have to think of a good spot to stick a broccoli.
(William) – Maybe the finback whale? I do love those guys. Other Half has so many logos and labels that I love so it would be easy to grab a tattoo from there. Who DOESN'T want a smiling baked ziti tattoo? Could do a whole food sleeve!
7 – Name a brewery you must visit that you have not been to yet?
(Shonah) – I'd love to check out one of the big sour breweries, like de Garde! One day when Covid is less of a threat, we'd definitely want to do more traveling and visit more breweries.
(William) – I would love to make it to Portland to see Bissell Brothers and try Swish straight from the tap. From there, the list goes on and on. There are not many breweries that I wouldn't want to visit, to be honest. Visiting the brewery in person gives a much deeper appreciation for their product. Big ones on my list include Brew Gentlemen, Other Half Rochester, Other Half DC, de Garde, The Lost Abbey, The Rare Barrel, American Solera, Side Project, etc.
(editor note: I would bathe in Swish so fresh from the tap works…haaa)
_____________________________________________________________________________
Look for these future responses from the following for SQBS soon…
Part 22
@erikafaythe and @pleidy
Part 23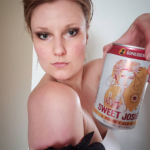 Part 24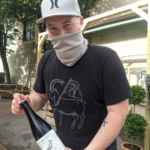 Allen from @amorystomb
Part 25
@sicilianbeerkitten and @bostonbeerjournal
Part 26 – Could be you?
If you want to be featured, send me a DM or reach out to me via email at [email protected].  Feel free to comment at the very bottom if you want to see more!
You can also find my other posts and pics on Twitter, Instagram & Facebook.
Thanks for reading and have a great day!
Ed-
Tags:
#beerbloggers
,
#blogger
,
#craftbeerblogger
,
#sevenquestionbeersunday
,
beer
,
breweries
,
brewery
,
craftbeer
,
Hoppy