Today's edition of Seven Question Beer Sunday is from @tdotdrinks (aka Edward) and @txbeerdude (aka JD).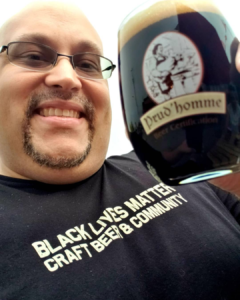 Edward hails from the area of the world where tuques are chic and Bob & Doug McKenzie are everyone's friend.  Elsinore beer anyone?  This devout Toronto Maple Leafs fan can be seen in and around the city, pushing back pints on the regular.  His creative Instagram account is filled with lots of beer, food, and local sport pics, that also include some very cool Toronto skyline pics, beer in hand!  Usually found with his partner in life (as she states) @craftbeerphoenix (aka Meoshi).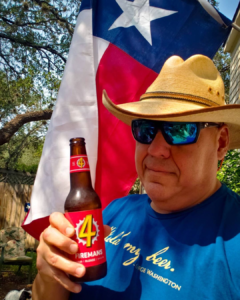 JD is a beer-loving Texan living life to the fullest, sipping his way around the Lone Star State.  This advocate of all social media platforms is doing his best to make a dent in the craft beer world, one beer at a time.  His Instagram follower numbers are teetering on 5k so go hit that follow button.  While your at it, go give Edward and Meoshi a follow too!
Thanks a ton for your contributions and support, Edward and JD!
Cheers 🍻
Ed-
GotHops.blog
_____________________________________________________________________________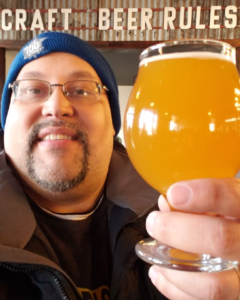 What is your name and location?
Edward, Toronto, Ontario 🇨🇦
What is your day job?
Customer Care
Where can we find you on the socials including Untapp'd?
IG – @tdotdrinks
Untapp'd – TDotDrinks
Any hobbies/interests other than beer?
Music, Movies, Sports, & Comics/Cartoons/Anime.
1 – Favorite three breweries you have visited?
a) In City: Henderson Brewing, Rorschach, & Muddy York.
b) Outta Town: Wellington Brewing, Nickelbrook Brewing, & 3rd Moon Brewing.
2 – What is your favorite beer-related blog or website and why?
YouTube Channel: "Drunk Polkaroo". Robert is a great dude, with an approachable take on beer reviews. So regardless of your familiarity with beer, you walk away with something after watching him, & feel better for it. Definitely a great ambassador for craft beer!
3 – Your go-to beer while having dinner?
A Belgium Tripel is always welcome at our dinner table! Because, why the hell not?!
(editor note: hell ya, pairs well with just about anything)
4 – Your number one pet peeve at a brewery?
General assholery (almost always from the patrons, but sometimes the brewery).
5 – Ever wear lederhosen or a dirndl while drinking an Oktoberfest beer?
No, but I was wearing a "Tyrolean"/"Alpine" hat, & drinking from a stein made in Germany.
6 – What is your opinion of beer rating apps and websites such as Untapp'd, Ratebeer, etc.?
When it comes to Beer Apps like Untapp'd, I find them fun, great for finding beers/venues, and an easy way to connect with the (Craft Beer) Community. When it comes to sites like Ratebeer, I find them informative, (especially) when you are new to beer, &/or are hoping to learn more about a beer. I feel the best thing to do with both platforms is to focus on the facts and not the opinions, because that's when they are at their most useful.
7 – How long have you stood in line to get beer and was it worth the wait?
An hour & a 1/2, at Bellwoods Brewery. And it was totally worth the wait, as the beer sold out before I got home that day. That said, y'all Americans are some next level with those line-ups!!!! 🤯_____________________________________________________________________________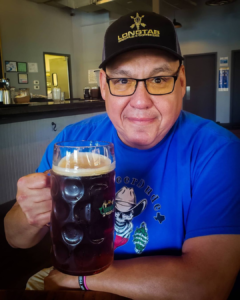 1 – What beer style would you like to see go away and never come back?
All things Slushy or anything that has a tremendous amount of "add-junks" and calls itself beer!
2 – Name a beer you haven't had but are desperately ISO?
Pliny the Younger
3 – What is your opinion of a soured style of beer?
I enjoy the traditional Gose but this style has been so bastardized. I absolutely hate all the pickle crap!
4 – Ever have Sam Adams Utopias? If yes, what did you think?
I have! I was lucky enough to have a small sample of the 2002 release while on a business trip to Boston. It was definitely a great beer but I wouldn't pay that much for it.
5 – Farthest you traveled from home to visit a brewery and what was the occasion?
The Guinness brewery in Dublin Ireland. Was on a business trip and had the opportunity to visit. Awesome experience and was the true catalyst for my love of craft beer.
6 – What is your opinion of craft beer variety packs?
I think they are a great opportunity to try a variety of styles from a brewery.
7 – Favorite brewery or beer from Florida?
I absolutely love everything from Angry Chair. Awesome stouts!
(editor note: the few I had at shares were awesome so ya…this!)
_____________________________________________________________________________
Look for these future responses from the following for SQBS soon…
Part 21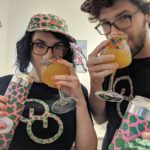 Part 22 – Could be you?
If you want to be featured, send me a DM or reach out to me via email at beerme@gothops.blog.  Feel free to comment at the very bottom if you want to see more!
You can also find my other posts and pics on Twitter, Instagram & Facebook.
Thanks for reading and have a great day!
Ed-
Tags:
#beerbloggers
,
#blogger
,
#craftbeerblogger
,
#sevenquestionbeersunday
,
beer
,
breweries
,
brewery
,
craftbeer
,
Hoppy