Welcome to the Christmas Edition of Seven Question Beer Sunday.  Today's guests are @thebrewlocker (aka Jenna) and @pitkinpointbrewing (aka Tayler).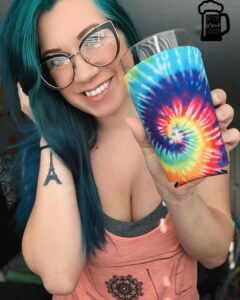 I only know of Jenna via the gram.  This Michigan native and new Mom, now living in the Nashville Tennessee area, is the quintessential selfie queen of beers with over 21k followers.  Not sure how she does it but she always finds time to answer my questions or reply to my comments.  Always!  That's how you rock social media to your advantage, kids!
If you love brewing beer or just talking about beer, add Tayler Pitkon to your must-follow list!  This Maine native, now living in very bucolic Carlisle, Massachusetts, used to brew beer (almost) professionally but recently jumped back over the homebrew fence.  Tayler's family has a long Maine history.  Do a search for Pitkin Point Brewing and you'll see how he weaves some of this history into the beer names as well the story behind them.  Pictures included!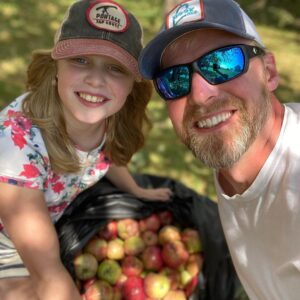 There are many people in the beer community that I look forward to hanging out with, sipping a beer, while enjoying their company.  With Tayler, you are guaranteed to get that along with a Pitkin or beer-related history lesson too.  Along with his great tasting beers (I admittingly have consumed several), he also makes funky ass, incredible tasting ciders!
I hope everyone had a safe and merry holiday with family and friends, sans COVID of course, and have an even safer New Year!  Eventually, this historic time will all be behind us and we will be back to normal soon.
A big thank you to Jenna and Tayler for taking the time out of their busy days to answer my 7 questions.
Cheers 🍻
Ed-
GotHops.blog
______________________________________________________________________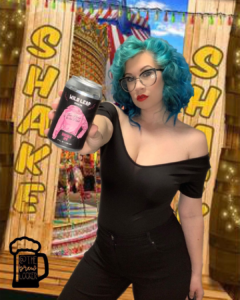 What is your name and location?
Jenna, Tennessee
What is your day job?
I'm a stay at home mom!
Where can we find you on the socials including Untapp'd?
@thebrewlocker
Want to plug your side hustle?
I have an Etsy shop where I sell stickers and pint glasses! Look for TheBrewLocker.
1 – Which style beer do you prefer, IPA or Stouts, and why?
This is a tough question. Tough because I don't like traditional IPA's and my palette has changed since being pregnant. So, I guess I'd have to say IPA's which is pretty remarkable to me! I've said for years I HATE IPAS. But, I really enjoy Milkshake IPA's, NEIPAS, and Sour IPAs.

2 – Ever have Three Floyds Dark Lord? If yes, what did you think?
I have not ever had that beer by them, but I did have a few different ones while at a beer festival a few years ago! Amber Waves Beer Fest in Indiana. It was a blast!

3 – Last time you met friends at a brewery since COVID?
I met a friend for lunch a few weeks ago at Blackhorse Brewing.

4 – Favorite brewery or beer from Michigan?
I have two. My favorite statewide brewery would be Oddside. They have a stupid amount of beer to offer and it's ALL GOOD! My favorite Detroit local brewery is Brew Detroit. They have a great atmosphere, fantastic beer, and some amazing people working there!

5 – Ever drink an IPA twelve months past its born on date and if yes how did it taste?
I have actually! I did it for a "Face your Beers" segment on Drinking Alone With Friends. It wasn't as bad as I thought it would be considering the first time I had it I despised that style.

6 – Do you prefer your beer from a can, glass, or bottle, and why?
I prefer my beer poured into proper glassware, and preferably from the tap! I like to look at the beer. See the bubbles, the color, the head. I like to smell it as I'm drinking it because smell adds to taste and can alter the flavor.
(editor note: I think proper glassware adds to the experience)

7 – What was the name and location of the first brewery you visited?
Oh boy. Uhhhh. I need a moment to think on this! I believe it was Arbor Brewing in Ann Arbor MI. Cute spot in downtown Ann Arbor. Their first location too! They've since relocated from that quaint building.

_____________________________________________________________________________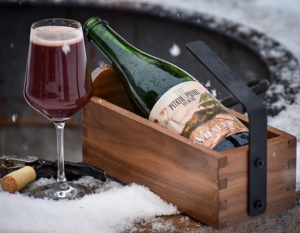 What is your name and location?
Tayler Pitkin – Carlisle, MA.
What is your day job?
I started in Residential AV back in 2001 and switched to Commercial AV in early 2017, now working for the largest AV integrator in the world out of our Boston location.
Where can we find you on the socials including Untapp'd?
Instagram: @pitkinpointbrewing
Twitter: @PitkinPoint
Untappd: Pitkin Point Beer
Facebook: I'm over it!
Want to plug your side hustle?
I guess I don't really have one at the moment. Workin' for the man every night and day! I would love to get some sort of nano-brew thing going but who knows.
1 – Most memorable beer or brewery moment?
It was my first introduction to Tree House Brewing Co. in Monson. Curiosity 16. Man, was I hooked. This experience led to many VT trips early in the morning to wait in line for Heady [Topper] and Sip [of Sunshine]. I gained a couple LB's that year…
2 – Any beer or brewery related tattoos and if none, would you get one?
Ya know, I've been thinking more and more about getting a tattoo on the underside of my forearm, but I want it to appropriately blend my loved ones, my upbringing on the ocean in Maine, my connection with the beer community, and the great outdoors in an elegant fashion. I haven't found what I'm looking for yet. So no, I don't have any tattoos, yet.
3 – Ever been to a Cider House and if yes, which one?
Yes, I have been to a few, more so recently. New Salem Ciders (William Grote is the man and his ciders are spectacular), Lookout Farm, Cider Hill Farm (my club does an annual cider buy to ferment and experiment, awesome stuff), and recently Pony Shack Cider.
Cider is something I've really been getting more and more passionate about over the last few years. I made a cider with apples that grew on my wife's family property in Maine and surprisingly won a medal in the Boston Homebrew Competition. From there I started learning more and more about apples and apple trees (fascinating, by the way), and have even started to graft and clone trees. I won a medal in GLINTCAP last year, and continue to forage for apples and make wild ciders, often adding different foraged fruits to many of them like raspberries, blueberries, and cranberries. My cider is dry and tart, just the way I like it, but it's not for everyone! 🤣
4 – Ever take a beercation? If so, where?
If by "Beercation" you mean a getaway dedicated to only beer things, I don't think so, but my wife always tries to accommodate me on our trips by fitting in some awesome stops along the way. One time we went to Freeport, ME for the night with friends so we could get in line for Dinner (Maine Beer Company) at 5:30 a.m. in March or something. It was cold. It was the earliest I've [drunk] beer when I haven't stayed up all night. Goals. Aim high, kids!
5 – You are staring at a Heady Topper and a Focal Banger, which one do you grab and why?
Tough choice but I'm going Focal. Heady will always be the OG and have a special place in my heart, but it's always been a bit on the bitter side for me. When Focal came out, I was like "YESSS! They get it!" Don't get me wrong, I'll still grab that Heady when the Focal is gone!
(editor note: totally 100% agree)
6 – What beer was your gateway beer to the craft beer scene?
2007. Sam Adams Winter Lager. One cold evening it just hit the spot, and I couldn't get enough of it. Things snowballed from there… Homebrew kit for my birthday, thousands of dollars spent over the years on new brewing gear, days dedicated to brewing, bottling, drinking it with friends. I love the art of brewing, so thanks, Jim Koch!
7 – Your thoughts on unsupervised children at a brewery?
I'm never a fan of unsupervised children. I think you should be able to bring your kids anywhere, but only if they're good kids, which ultimately means their parents are good parents. Breweries and brewpubs are BORING for kids, so they probably don't want to be there anyways unless they have fun games to play with, with YOU, but let's face it; the games are there for us "adults" while we drink. I have a very well behaved 9-year-old daughter who I consider before going anywhere. Is she going to have fun? Is she going to have a friend to keep her company? Is she going to be a butthead? All things that need to be considered. If the kid is acting up, time to go. Or just don't bring them, relax, and enjoy yourself. I kinda go both ways here, but I also know when it's time to go. You can tell, everyone will be looking at you. 🙂
_____________________________________________________________________________
Look for these future responses from the following for SQBS soon…
Part 18
@womensbeercollective and @itsallbeertome
Part 19
@_boston_scotts_beer_journey and @thebrewfellows
Part 20
Part 21 – Could be you?
If you want to be featured, send me a DM or reach out to me via email at [email protected].  Feel free to comment at the very bottom if you want to see more!
You can also find my other posts and pics on Twitter, Instagram & Facebook.
Thanks for reading and have a great day!
Ed-
Tags:
#beerbloggers
,
#blogger
,
#craftbeerblogger
,
#sevenquestionbeersunday
,
beer
,
breweries
,
brewery
,
craftbeer
,
DIPA
,
Hoppy