We have a special treat for this week's Seven Question Beer Sunday (part 16).  Meet @achesnes21 (aka Aaron), @inkdmomkpg (aka Tricia), and @bixandbrews (aka Bob), owner and head brewer of Altruist Brewing.
Aaron is a kind soul, supportive husband, and a dedicated family man to three adorable little girls.  A regular attendee of my Breakfast at the Brewery events but has yet to make it to my beer shares (that's a gentle poke, Aaron).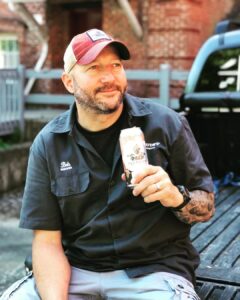 For those dedicated GotHops.blog followers, I've written several blog posts about Altruist Brewing.  I am particularly fond of the one I wrote before they opened, pictures included!  Bob, and his wife Nancy, are some of the best there is in the beer industry.  Always supportive and just awesome people to be around.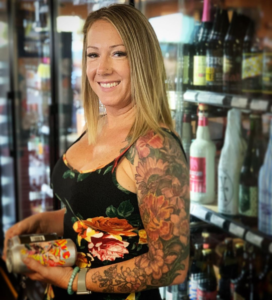 I have only met Tricia courtesy of the gram.  She seems as sweet as apple pie, always posting awesome beer pics, and was kind enough to ask if I was going to Other Half Brewing Pastrytown event from last March.
Big applause to all three for taking the time to be part of my Seven Question Beer Sunday blog post.  I hope you enjoy their responses as much as I did.  Merry Christmas, Happy Hanukkah, and Happy Kwanzaa to all!  May your Festivus Pole be polished and bright 😎
Cheers 🍻
Ed-
GotHops.blog
______________________________________________________________________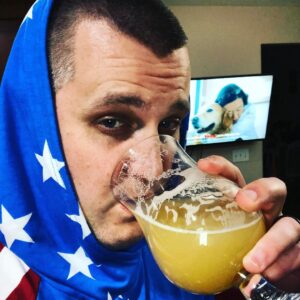 What is your name and location?
I'm Aaron from Monson, Massachusetts.
What is your day job?
I'm a supervisor for Automated Logic (HVAC controls). I make businesses greener and comfortable all over Mass, most recently [at 1 Dalton] a 65 story high rise, and a lot at Logan Airport (just to name a tiny few).
Where can we find you on the socials including Untapp'd?
I'm pretty much achesnes21 on everything (IG, snap, Untapp'd, and whatever else I may have)
Want to plug your side hustle?
It's @the_alc_guys. It's to showcase the work we are currently doing at my job with my co-worker. We legit just started it and would be awesome to get some more followers and likes!
1 – What was the first beer you ever had and how old were you?
The first beer I'm sure was something crappy like Bud or Coors. The first actual good beer was Berkshire Brewing Gold Spike Ale. BBC being local, made me realize how good beer actually is!
2 – Have you home-brewed beer and if no would you?
I haven't brewed anything but I've had kits to do them on the small side but having kids always squashed that but I definitely would love to!
3 – Hop Head or Malt Head?
HOP HEAD!!! All types of hops. So much so I'm part of a group on FB called "The Hop Heads"  Great group and I would highly suggest joining!
4 – Your go-to snack while having a beer and why?
Typically I'm usually eating dinner when drinking but I love the bar mix that comes in a big tub (no idea the actual name) probably because the salt/beer mix always tastes good or whatever my kids have since I love stealing their stuff!
5 – What is your most preferred Whiskey?
Not a huge hard liquor guy (too many bad times with them lol) but I currently have [a bottle of] Leadslingers which is owned and operated by veterans which I'll always support!
6 – Describe your best brewery experience?
Best experience at a brewery is split between two. First tour of a brewery I had was Harpoon in Boston. It was cold and snowy so no one was there so we legit had the place to ourselves and they were awesome! Got to try everything and even weird concoctions that they would come up with.  The other has to be [my] first BATB (Breakfast at the Brewery) at Timberyard! Amazing place, beyond amazing people, and the person that held it and made it happen, is a legend (cough cough)! Can't wait for COVID to kick rocks so we can all enjoy [them] once again!
(editor note: that guy that puts on those events is just OK 😏)
7 – Ever have Three Floyds Dark Lord? If yes, what did you think?
I have never had anything from 3 Floyd's butttttt they are finally available in Mass now so I'll definitely try to get my hands on it!
_____________________________________________________________________________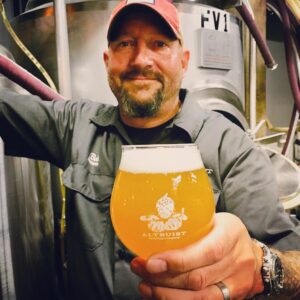 What is your name and location?
Altruist Brewing Company Sturbridge, MA
What is your day job?
Another guy with a keyboard at DELLEMC
Where can we find you on the socials including Untapp'd?
IG=@bixandbrews
FB=@rmbixby
Untapp'd=@rmbixby
Want to plug your side hustle? 
No time for a side hustle
1 – How many beer-related shirts do you own?
43
2 – Ever take the Cicerone test?
Nope
3 – Stouts in the blazing hot summer, yes or no and why?
Yes, taste buds don't change with the seasons. If the beer is good, it's good anytime of year!
4 – Ever been to a Cider House and if yes, which one?
No, I don't like cider
5 – Favorite brewery or beer from New York?
Equilibrium / Other Half
6 – You are staring at a Heady Topper and a Focal Banger, which one do you grab and why?
Focal Banger…both are solid beers but I find Focal to have a bit more bite that offsets the sweetness.
(editor note: I'll second this comment for the same reason)
7 – The world is ending and you can only choose one to drink; Keystone Premium, Natty Light, or Bud Ice?
None of the above! If the world is ending, I don't want to make my last remaining hours any worse.
_______________________________________________________________________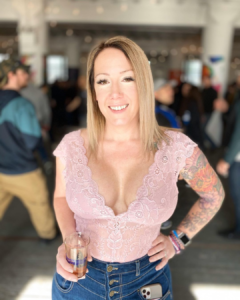 What is your name and location?
Tricia from Roseville, California.
What is your day job?
I am an account manager for an employee benefits consulting firm
1 – Name a beer you haven't had but are desperately ISO?
Toppling Goliath's Kentucky Brunch Brand Stout.
2 – Your thoughts of unsupervised children at a brewery?
Would you take your kids to the grocery store and let them just run around? If not, why is it ok at a brewery?
(editor note: agree 110%)
3 – What is your opinion of beer rating apps and websites such as Untapp'd, Ratebeer, etc.?
I think it's good to use them, but everybody has different tastes so you can't completely rely on other people's opinions.
4 – You are at a brewery and a customer rolls by with 9 cases of beer, what is going thru your mind?
Liquor store?! Where is the party at? Or Wow, that must be his favorite.
5 – What is your favorite non-beer related hobby?
I love spending the day on our boat.
6 – What is your opinion of a session IPA?
I feel like it's confused…
7 – Most memorable beer or brewery moment?
This year I had the opportunity to go to NY and attend 2020 Pastrytown and it was a blast. I was able to meet so many of my beer friends in person and the beer was out of this world.
_____________________________________________________________________________
Look for these future responses from the following for SQBS soon…
Part 17
@thebrewlocker and @pitkinpointbrewing
Part 18
@womensbeercollective and @itsallbeertome
Part 19
@_boston_scotts_beer_journey and @thebrewfellows
Part 20
Part 21 – Could be you?
If you want to be featured, send me a DM or reach out to me via email at [email protected].  Feel free to comment at the very bottom if you want to see more!
You can also find my other posts and pics on Twitter, Instagram & Facebook.
Thanks for reading and have a great day!
Ed-
Tags:
#beerbloggers
,
#blogger
,
#craftbeerblogger
,
#sevenquestionbeersunday
,
Altruist
,
altruistbrewing
,
beer
,
breweries
,
brewery
,
craftbeer
,
Hoppy