Meet @dallasbeertalk (aka Victor) and @jp_eman, (aka JP), today's Seven Question Beer Sunday (part 12) participants.  I've had the honor to physically meet both and consume a few beers in their presence.  There are a few, albeit small, tangential connections between all three of us.  We live in a small world, my friends!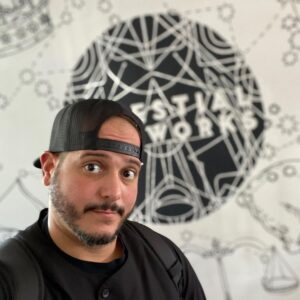 Victor, who resides in the Dallas Texas area, originally from Brooklyn, New York, met with me at On Rotation Brewing for a little bottle share with other beer peeps.  To my surprise, they collectively made a sizable donation to support my PMC Bike Ride (in 2018) and gave it to me while I was in traveling in Dallas.  It was one of the nicest things I ever witnessed.  A bunch of beer geeks like myself meet at a brewery I've never been to, via a social media platform, to offer a cash donation, to help me reach my lofty $5k commitment to raise money to find a cure for cancer.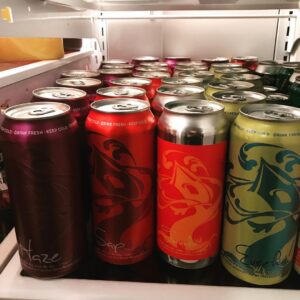 JP, who grew up on Long Island, New York, also supported my PMC bike ride in 2018.  The reason I was in Dallas was for a 3D CAD conference called SOLIDWORKS World, which is a conference for a large group of engineering geeks (that would be me too).  JP, who is also an avid craft beer fan, is employed by the parent company (Dassault Systemes) who owns the software and organizes the conference.  He is an annual presenter (and a damn good one) for this event as well as regional meetings around New England, where we both live.
Needless to say, our paths cross often and for several reasons.  We talk more about beer than we do work when we meet.  Is that not what beer is all about?
Cheers beer friends 🍻
Ed-
GotHops.blog
_____________________________________________________________________________

What is your name and location?
Victor, I live in Dallas, Texas
What is your day job?
I am histo tech (histotechnician) and I work for digestive health in Dallas
Where can we find you on the socials including Untapp'd?
All my social media is Dallas Beer Talk
1 – The beer you haven't had yet but would go thru extra measures to get?
At the moment there isn't anyone beer that I really want to try, but I am really loving Trimtab brewing and would like to trade beers.
2 – What is your favorite beer-related blog or website and why?
I am a big fan of www.beerinbigd.com because it is an easy way to stay informed on the happenings here in Dallas.
3 – What is your least favorite beer style?
I am not a big fan of wheat beers.
4 – What was the reason you created a beer-related social media account?
In the beginning, my friend and I made a podcast to share our love for drinking. He likes drinking beers and I like bourbon/whiskey, so we came together to talk about it and share some of these experiences together.
5 – If you could only drink 1 beer, every day, for the rest of your life, what beer would it be and why?
If I had to pick one it would be crispy by nature (Pilsner) from False Idol brewing. It is a very delicious and easy-drinking beer.
6 – Ever have Tree House Juice Machine? If yes, what you did think?
Unfortunately not yet.
7 – Ever done a blind beer tasting, if yes were you surprised at the results?
Funny enough, once a year on the podcast we do a blind tasting of mostly craft beer but sometimes we throw in bigger company beers. For example, a Bud Light Miller light and things like that. It is always funny to see the results when people don't realize what they're drinking. If you need a person to say they don't like pilsners or wheat beers or even certain types of IPAs, we do a blind taste test with them.  You can find a middle ground where they might find something interesting in those styles they don't like in the beginning.
_____________________________________________________________________________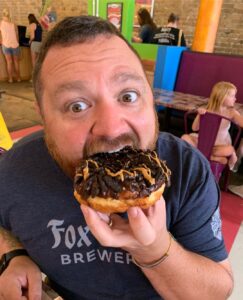 What is your name and location?
JP (Griswold, CT)
What is your day job?
By trade: Electrical Engineer; By job: Dassault Systémes SOLIDWORKS Technical Manager
Where can we find you on the socials including Untapp'd?
Untappd: ChubbyDonut
Tw: SWECAD
Want to plug your side hustle?
Custom Woodworking
www.bluenosewoodworks.com
Instagram: @bluenosewoodworks
1 – Ever have Atrial Rubicite from Jester King? If yes, what did you think?
Not that I can remember. I've been to Jester King and have had a few of their options. Coming from New England, I get spoiled with NEIPAs, and I was surprised by how many sours they had there.
2 – What is your opinion of a pastry stout?
I've only had one and it was super sweet. I'd rather have a cannoli. But I would definitely try one again.
3 – Favorite three breweries you have visited?
Hill Farmstead
Foam Brewing
Fox Farm
(editor note: I'll second all those picks)
4 – How many bottles of beer are in your barrel-aged collection?
Unfortunately, I have zero.
5 – You had your worse day ever, what are you drinking to take the edge off?
Woodford Reserve or Whistle Pig
6 – What beer style would you like to see go away and never come back?
Oyster Beer or Bacon flavored beer. Gross!
7 – Have you ever been to a beer share? If yes, tell us about it.
Sorta. There used to be a little brewpub near my house that ran a beer club. Once a month we would pick a style and everyone would bring a couple. Then we would do a blind taste test. It was pretty fun trying to guess which beer it was we were drinking. So I guess we were sharing beers there…
Other than that, I "share" beer via mail every now and again. 😎_____________________________________________________________________________
Look for these future responses from the following for SQBS soon…
Part 13
@captainasshat and @abrasivecraftbeer
Part 14
@abcs620 and @grealishdrinksbeer
Part 15
@crystalm3thany and PJ from @navigationbrewingco
Part 16 – Could be you?
If you want to be featured, send me a DM or reach out to me via email at [email protected].  Feel free to comment at the very bottom if you want to see more!
You can also find my other posts and pics on Twitter, Instagram & Facebook.
Thanks for reading and have a great day!
Ed-
Tags:
#beerbloggers
,
#blogger
,
#craftbeerblogger
,
#sevenquestionbeersunday
,
beer
,
breweries
,
brewery
,
craftbeer
,
Hoppy