Today's Seven Question Beer Sunday (part 11) guests are @bumpsnbrews (aka Kevin) and @ryanormile (aka Ryan).  If you read last week's edition, I mentioned @beergovernornh_nopepr would be one of our guests.  He kindly asked for his submission to be removed…and done!
Kevin, is not only a huge fan of beer but is also a huge fan of wrestling.  Get it yet?  Bumps & Brews!  If you are a fan of River Styx Brewing, more specifically, their can art, then you unknowingly know Ryan.
Kevin has attended a few of my Breakfast at the Brewery events.  He comes with a wicked sense of humor and can be a total ball buster.  He's also a big dude and towers over my 5'11", 215-pound frame.  However, deep down inside, this new Dad and beer monster of a man is as soft as a teddy bear and has donated to my PMC bike ride for Cancer several times.  Go give him a follow and begin to drool when you see his bottle collection.  The pic below is just one of three!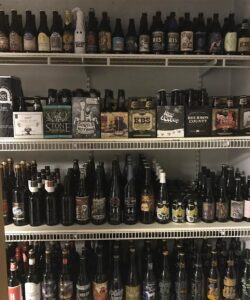 Ryan is an employee at River Styx Brewing.  You will find him helping out around the brewery but mostly behind his laptop, creating all those insane graphics found on many River Styx cans.  I've only met him a few times, once in person and once on a virtual meeting with others from the brewery.  He is very polite and totally compliments the awesome team of people at River Styx in Fitchburg, Massachusetts.  If genuine people that love art and beer are your thing, then he is a must-follow!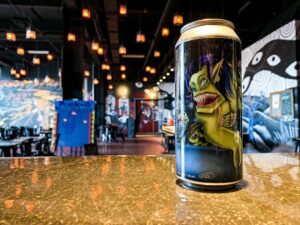 Thank you Kevin and Ryan for your contributions!
Cheers beer friends 🍻
Ed-
GotHops.blog
______________________________________________________________________

What is your name and location? 
Kevin from Meriden, CT
What is your day job? 
High School Ceramics Teacher
Where can we find you on the socials including Untapp'd?
@bumpsnbrews on Instagram, @bumpsANDbrews on Untappd
Want to plug your side hustle?
Just like connecting with fellow beer lovers, no side hustle here. Although maybe I should get around to selling some of this pottery I make quite frequently. (editor note: beer stein please 🍻)
1 – You are at Tree House Brewing and a customer rolls by with 9 cases of beer, what is going thru your mind?
I want to be his friend! More likely where the hell did he get that cash or where is he muling all that beer back to. Think we all do the same thing when we hit any far away breweries. Some people are a little more dedicated to a wider group of people.
2 – Your go-to beer while playing in the snow and cold weather?
If I'm out clearing snow I would say either a Spaten Octoberfest or a Guinness. Most of the time it's whatever beer someone hands me.
3 – Any beer or brewery related tattoos and if not would you get one?
Not one tattoo on my body, kind of strange for an Art Teacher isn't it? If tattoos were my thing I would consider it, would probably be more subtle than most. Don't know if I would want the treehouse logo plastered across my bicep. But again that's a personal preference, I know some people would be totally into that and to each their own.
4 – What was the first beer you ever had and how old were you?
I mean my Father used to let me sip his bud light when I was little. We used to have a mini-fridge in our garage up on a high shelf. One day I decided to climb on top of our central vac and help myself. Cracked open my own and walked around back sipping it. I got a mouthful for sure but I'm sure it must have been tough for my father not to laugh. The first beer I drank on my own was a Bass in 8th grade at a friend's house after school. Felt like such a little badass, how wrong I was!
5 – Are born on dates on a can important to you and why?
Yes! If it's hops, I usually won't buy them unless they are dated. Unless I know for sure they are fresh. Too many breweries beers have such a short shelf life. Nothing is worse than getting a past their prime shelfie that has turned into a malty mess. If I'm looking to pick up some hops if they are super fresh I will usually pick them up instead of an older more sought-after beer. I make exceptions for beers I know have a better shelf life. Back East Ice Cream Man drinks great after a month, most others are not in the same boat.
6 – Favorite brewery or beer from Canada?
Canada makes beer? Robin Williams said it best "Canada is a rooftop apartment over a really great party." First of all, honest truth I had to look up breweries in Canada and sat there, saying to myself, "nope, don't know it, nope, nope, sounds familiar but nope, oh look I know that one." That one was Unibroue and I have enjoyed La Fin Du Monde many times. A local bar in Wallingford, CT named Jakes Martini Bar used to have it on draft frequently like 7-8 years ago. (editor note: I'll be sure to recite this to my Canadian GF 😄)
7 – If you could only drink 1 beer, every day, for the rest of your life, what beer would it be and why?
Well, I hate to sound like a broken record but that beer is Guinness. It never lets me down, is always delicious, and it's super consistent. Can't say I have ever had a bad Guinness. Some people might say it's not a warm weather beer but my god it is. So damn smooth and refreshing. The nitro is always a nice touch, and no beer is better to look at following a pour than a Guinness.
______________________________________________________________________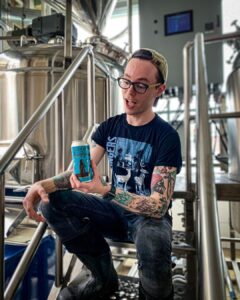 What is your name and location?
My name is Ryan Normile and I currently like in Gardner, MA!
What is your day job?
I am the Head Cellarman and Graphic Designer for River Styx Brewing
Where can we find you on the socials including Untapp'd?
I primarily use Instagram at @ryanormile
1 – The world is ending and you can only choose one to drink; Fosters, Bud Light, Keystone Ice?
Man, that's tough. I think Bud Light honestly. Out of the three of those, I think I've drank Bud Light the most.
2 – Ever been to a brewery in Iceland, if yes which one?
I've never been to a brewery in Iceland but I've always wanted to go because it's a beautiful country. I have had an Icelandic stout called SURTUR that had this beautiful prophetic story of the end of days on the side of the bottle. I did just do a cursory google search to make sure I was spelling it right and found out that the malts were smoked over sheep manure? Which I probably would've been able to parse had I been able to read the non-translated beer description.
3 – Most odd but interesting tasting beer you ever had?
I had a Mole sour once that was sweet, spicy, and tart. It was so unusual, I think I liked it but I found myself asking if I actually did with every sip.
4 – You had your worse day ever, what are you drinking to take the edge off?
Buffalo Trace, neat.
5 – Favorite brewery or beer from Michigan?
I just searched through my Untapp'd and I actually don't think I've had a beer from Michigan, so I'm here for recommendations! (editor note: the list is long but mine would be Bell's & Old Nation)
6 – Have you ever been to a beer share? If yes, tell us about it.
Yeah! I love beer shares. Certainly working in the industry has its perks because I've been exposed to wonderful craft liquor stores and I find things I wouldn't typically. I'm someone who loves sharing experiences so if I see something interesting, I'll pick it up and bring it to work for a post-shift beer share! Otherwise, I'm the Dungeon Master for a Dungeons and Dragons campaign and half of the fun is drinking and doing improv with friends, so we ALWAYS have shares of beers, wines, and even sometimes spirits around the table.
7 – No way or all the way for Brut IPA's?
I always say, if you're gonna go to town, go in a Lincoln. All. The. Way.
______________________________________________________________________
Look for these future responses from the following for SQBS soon…
Part 12
Part 13 – Could be you?
____________________________________________________________________________
If you want to be featured, send me a DM or reach out to me via email at beerme@gothops.blog.  Feel free to comment at the very bottom if you want to see more!
You can also find my other posts and pics on Twitter, Instagram & Facebook.
Thanks for reading and have a great day!
Ed-
Tags:
#beerbloggers
,
#blogger
,
#craftbeerblogger
,
#sevenquestionbeersunday
,
beer
,
breweries
,
brewery
,
craftbeer
,
Hoppy