This special day has finally arrived for Seven Question Beer Sunday!  1-years worth of random beer-related questions, sent to random beer people, with a euphony of beer-related answers, read and enjoyed by you, and yours truly!  You are probably thinking (or not) which ones are the best.  Just like a palate, what I find entertaining, you might not.  I will go on record to say the responses I enjoy the most are those that dig in and provide more than a two or three-word answer to SQBS questions.  Giving the reader a glimpse behind the "why" with anything other than a simple"yes" or "no" is way more compelling in my opinion.  I think we can all agree to that.
To kick off this special occasion, I purposely sought out the opinion of two of the more "legendary" kings of the beer world, especially here in Massachusetts.  I've known both for many years since creating my own beer social prowess.  I've written a blog post for them, drank beers at their house, and imbibed quantifiable quantities of a radical mix of styles at beer shares and beer festivals.
If you knew all along that it was The Mass Brew Brothers, then kudos to you!  These two gents are not actually brothers but they do share a first name, well, sort of.  Rob takes a more angelical need to be green approach, especially with his drive for proper recycling of PacTech beer carriers.  Bob takes a more community approach with beer tastings and traveling around to support Massachusetts breweries, posting visits on their social accounts.
They do more for the beer community than 10 people combined.  They are also very well respected in the beer industry, breweries included.  They have, in their own way, defined that craft beer community needle and kick it down the road like a Matt Prater field goal.  If you still haven't pushed that Instagram follow button, now is the time!  I promise you won't be disappointed!
A huge thank you to both for taking the time out of their already busy days to play SQBS!
Cheers, Rob & Bob 🍻
Ed-
GotHops.blog
_____________________________________________________________________________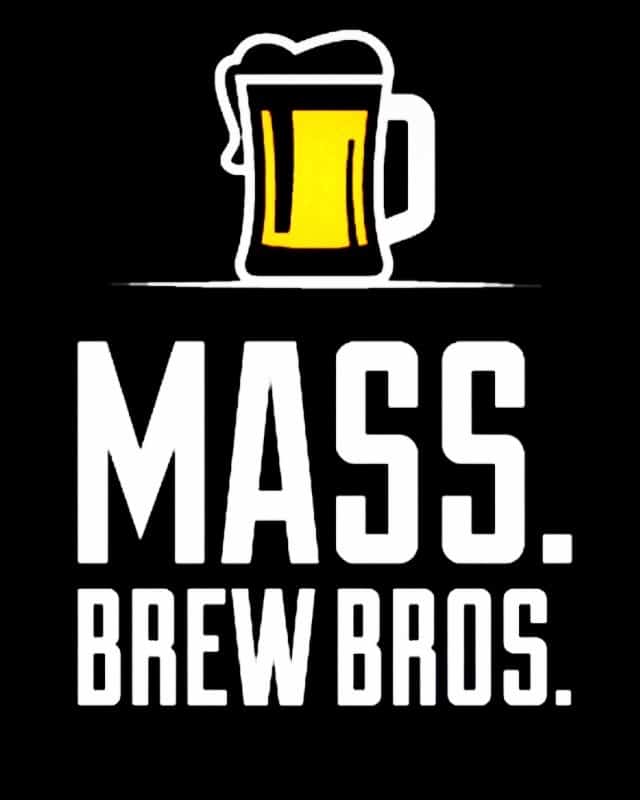 What is your name and location?
Bob Kelley, AKA Big Pride and Mass. Brew Bro Bob from The Bay State!
Rob Vandenabeele, AKA Eco-Friendly Beer Drinker
What is your day job?
(BK) I drink beer for a living
(RV) 'm a middle school health teacher, but in the process of a career change so hopefully transitioning into the environmental sustainability field soon.
Where can we find you on the socials including Untapp'd?
(BK) Mass Brew Bros on Instagram, Facebook, and Twitter. Brew Bro Big Pride on Untapp'd
(RV) Website: EcoFriendlyBeer.com / @EcoFriendlyBeerDrinker on Instagram and Facebook, @EcoFriendlyBeer on Twitter, and Brew Bro Rob on Untappd.
Want to plug your side hustle?
(BK) Every day's a hustle [but] I want to start off by saying thank you for asking us to do your Seven Question Beer Sunday. I read it often and enjoy seeing other craft beer aficionados thoughts on the craft beer scene. We feel extremely fortunate to have had all these amazing experiences and to be involved to the level we are in craft beer. Cheers to many more beers!

(RV) My side hustle has become trying to inspire the craft beer industry and its consumers to be more mindful about our Earth – the only planet with craft beer.
On that note, the Massachusetts Plastic Can Carrier Reuse & Recycle Initiative has been my passion project for the last several months. I've been working hard to
(1) raise awareness about the fact that plastic can carriers are NOT recyclable when put in a residential or commercial recycling bin.
(2) provide solutions to
help more breweries reuse them or arrange to have them sent directly to a plastics processor for proper recycling
(3) verify as many collection locations around the state as possible where consumers can drop off their used carriers to keep them out of the waste stream.
1 – What is your opinion of craft beer variety packs?
(BK) I don't generally drink the same beer back to back, so I appreciate variety packs and not just the big 12-pk kind. I really like it when breweries allow you to mix and match their beers when you get to-go-beer at their brewery. But similar to Rob, I find myself at breweries mostly, drinking draft and not at home to consume that format too much. Although Harpoon generously just sent me their Summer League Variety Pack that contains their 'League' line of beers which I have been enjoying.

(RV) In theory, I'm all for variety packs. That said, I probably haven't bought one in more than a decade. In fact, I haven't even bought a 4-pack of beer in more than a year because I've committed to drinking as sustainably as possible, which means avoiding single-use containers of any kind. I'm at the point where I'm almost exclusively drinking draught beer in proper reusable glassware (preferably at the brewery), or refillable growlers if I'm buying something for takeaway.
2 – What dead beer, as in no longer made, would you like to see come back to life?
(BK) Is ice beer still a thing? Ha! Seriously, I would love to drink Mystic Brewing Saison Renaud again or anything from Pretty Things. We heard Dann and Martha Paquette started a brewery in England called Saint Mars of the Desert. Maybe it's time for a trip across the pond and establish ourselves as the British Brew Bros!
(RV) This might be embarrassing, but I'm old enough to have been influenced by Pete's Wicked Ale when I was younger, and it brings back some fun nostalgic memories. For the younger members of your audience, I'd go with just about anything from Pretty Things.
3 – Which local beer festival is your favorite to attend and why?
(BK) We've been attending festivals for years. It's what we really did before becoming the Mass. Brew Bros. because you couldn't drink at many breweries save a few brewpubs back then.
The Beer Summit events at the Castle were classics. BeerAdvocate events are always first-rate and we hope they get back to hosting in-person events when the pandemic finally subsides.
As for smaller local events we really have a lot of fun at the Gardner Ale House Oktoberfest where you can drink steins of beer in your lederhosen while watching people on chair vehicles careen down the street.
Also, Cambridge Brewing's Great Pumpkin Beer Festival is always awesome. Some of your readers may not like pumpkin beers, but we do and they also have other fall/harvest styles there. People dress up in costumes and at the end of the night, they tap a GIANT pumpkin full of BEER!!
(RV) Again, I'm old(ish), and not much for festivals at this point in the game. I do miss Beer Advocate's Extreme Beer Fest, though. Some of the innovative creations breweries came up with for that festival, like a kimchi beer I remember (not fondly), definitely made for a fun night of sampling.
4 – What was the name and location of the first brewery you visited?
(BK) Definitely went to Sam Adams and Harpoon for their tours years ago. I also went to brewpubs such as Northampton, John Harvard's, and Cape Ann Brewing in Gloucester. Very sad that the latter two have closed.
But the brewery I visited that sent me on this path of a craft beer life and led to the Mass. Brew Bros was the FX Matt Brewery in Utica, NY which brews many brands, but chiefly Saranac. I was in central New York with my family and my Uncle suggested taking a tour of that brewery. I was hooked, the smell of the malt, the hops, and drinking pints right at the brewery. Shortly after, Massachusetts started allowing you to do the same thing and Rob and I said we're going to all of them and we did and we still do!
(RV) Not counting brewpubs, which were the only breweries you could visit when I started drinking craft beer, it must have been Sam Adams and Harpoon. I believe both had tours, even before taprooms were allowed, where you could sample at the end of your visit.
5 – Your favorite three breweries you have visited and why?
(BK) I have visited over 300 different breweries, so there's lots to choose from, but that's a loaded question for me because like many things, it's so subjective.
If you follow us, you know we don't rate or review beers or breweries. We're not beer influencers. We consider ourselves beer informers. We will let you know what you can expect at a certain brewery with regards to beer styles, atmosphere, food, or is it dog-friendly, etc. Then you can decide if the place sounds right for you.
I have my reasons for liking certain breweries as does everyone else, so I'll decline to go public with my favorites. Although, if your brewery has a couch or sunset views, you're probably in my top 10.
(RV) Seriously, this is an impossible question to answer. I'm such a believer in the idea that the right brewery, at the right time, for the right reason, can be awesome – even if the beer is just good and not great. So as not to totally duck the question, I'll say that I've always thought that Cambridge Brewing Company is amazing, Notch Brewing is a (pardon the pun) top-notch beer experience, and the Gardner Ale House is about as much fun as you can possibly ask for on the day of their Oktoberfest Party in the Street each September.
6 – How did you devise your IG name and tell us the meaning?
(BK) Mass. Brew Bros.? Well, the name is pretty straightforward. We inform and promote Massachusetts craft beer. We are not actually brothers because that would mean our parents named both of us Robert. We are brothers in beer.
However, the genesis of the name came from a time we were at a BeerAdvocate fest and we saw these guys in matching drinking shirts. We said we need to get something like that.
Originally we thought of bowling team shirts and calling ourselves the Pint Pals with bottles of beer being struck by a bowling ball on the back. But one night in Boston, for some reason, maybe divine intervention, we went into a Salvation Army Store and saw these Dickies work shirts and said we need those. We'll look like brewers and we'll even get our drinking names on them. (Mine is Big Pride and Rob's is Vintage V. There are a few honorary bros too; Jimmy Jack and Eddie Muzz)
We knew we made the right decision on the name and the shirts when we went back to a BeerAdvocate event and at the first security checkpoint they didn't ask us for our tickets they just said, "You guys are working this festival, right this way."
(RV) I'll let Bob explain how we came up with Mass Brew Bros name. As for EcoFriendlyBeerDrinker, the name kind of says it all: I want to appeal to an audience that is interested in beer, but also willing to learn a little bit about environmental sustainability. The idea is to combine my two biggest passions.
7 – Communal tables at a brewery…Love 'em? Hate 'em and why?
(BK) Beer is communal, so definitely!
One of the things I wanted most out of Mass. Brew Bros. was to have the opportunity to meet new people. I've met so many industry people, brewers, etc., but the amount of craft beer patrons I've befriended has been vast and extremely rewarding.
I honestly try to strike up a conversation with someone new at every brewery I go to. We already have an affinity for craft beer in common, so that's a great starting point and that leads to other topics.  So if you see me at a brewery, please come say hello!
(RV) I dig communal tables in general, but especially at a brewery. It's one of the few places where most people can put their differences aside and just share in the comradery of drinking a locally brewed beer. We could all probably do with more of that.
_____________________________________________________________________________
Look for these future responses from the following for SQBS soon…
Part 53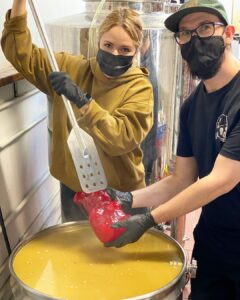 Tom @beeeeeer3
Cellarman and overall awesome dude at Sand City Brewing
Part 54 – Could be you!
If you want to be featured, send me a DM or reach out to me via email at beerme@gothops.blog.  Feel free to comment at the very bottom if you want to see more!
You can also find my other posts and pics on Twitter, Instagram & Facebook.
Thanks for reading and have a great day!
Ed-
Tags:
#beerbloggers
,
#blogger
,
#craftbeerblogger
,
#gothopsblog
,
#sevenquestionbeersunday
,
#water
,
#yeast
,
barley
,
hops