@abcs620 (aka Angela but prefers Ang) and @grealishdrinksbeer (aka Dan) are today's Seven Question Beer Sunday (part 14) guests.  Ang is a Michigan native, now living in Maryland.  She chases Juicy Hazy IPA's like a dog chasing its tail.  She is as real as they get and posts some of the most amazing pics, beer included.  I am always looking forward to seeing what she will post next.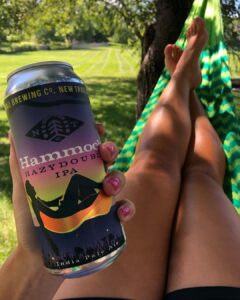 Dan has this squishy like a teddy bear personality and is one of the kindest beer people I've ever met in person.  He likes to live life large…go big or go home large!  I love reading his posts.  If the internet and Instagram existed back in the 80's, I imagine my posts would be a lot like Dan's.  Oh, the innocence of youth!  Before I forget, stickers, Dan!  Stickers!  I'll let you ask him what that means. 🤣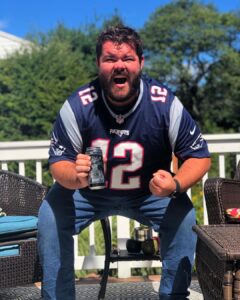 Both Ang and Dan have contributed to my Pan-Mass bike ride, a 192-mile bike ride across Massachusetts to raise money for cancer research, in years past.  They definitely add to the already awesome community of beer people to follow.  So go follow, you will not be disappointed!
Cheers 🍻
Ed-
GotHops.blog
______________________________________________________________________

What is your name and location?
Ang & Frederick, MD
What is your day job?
Hall monitor for two kids homeschooling
Where can we find you on the socials?
@abcs620
1 – Your go-to beer on a scorching hot & humid summer day?
If I don't have a great hazy or yummy sour around, I would definitely drink a corona with lime. Don't judge!
2 – What dead beer, as in no longer made, would you like to see come back to life?
This question does not apply to someone in their 20's.
(editor note: proof of age required please 😝)
3 – Most memorable beer or brewery moment?
Definitely when I went to Tree House last August with our beer fam (minus gothops 🙄). Besides being with great company, they have an amazing atmosphere of relaxation and great beer on tap. If they ever make Haze with Peach again, I highly recommend it!
4 – Favorite brewery or beer from Canada?
Labatt Blue Light. That was my go-to beer for years. When I was 19, we would go to Canada to drink, and that's all I remember having there. I actually reconnected with a friend of mine from those days, through beer posts, on the gram!
5 – Do you prefer a clear piney West Coast IPA or hazy juicy New England IPA?
NE IPA
6 – Ever take craft beer with you on vacation and if yes name them?
Wait, what's a vacation? I want one! When I do go away, I may take a few beers (depends on what I have in the fridge) with me but I really like to grab the local stuff while I'm out of town and make room for that.
7 – What was the reason you created a beer related social media account?
I actually didn't, hence my IG name. I originally got on the gram to get away from FB. Then I thought I could use this for posting and engaging about cider. But I didn't find a big community for cider then. So, I did a few trades and got cider and beer in the mail. Somewhere along the way, I started getting more into beer. I do still like cider but I'm super picky (and I find the beer community doesn't know much about cider) so I normally don't ask for them in trades and just keep it to beer. 😊
_____________________________________________________________________________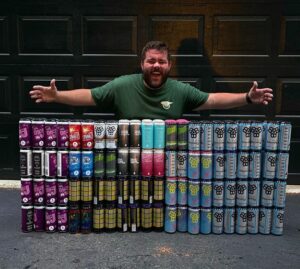 What is your name and location?
My Name is Dan Grealish and I am originally from Dedham, MA now living in Salem, NH.
What is your day job?
I work as a Project Engineer for a General Contractor in Downtown Boston mostly focusing on project management.
Where can we find you on the socials including Untapp'd?
@grealishdrinksbeer on Facebook, Instagram Youtube and Twitch.TV
@GrealishDrinks on Twitter
@Grealishhh on Untapp'd
Want to plug your side hustle?
Craft Beer Hustlers: A Podcast Blending the gambling and craft beer cultures! You can find us @CraftBeerHustlers on Facebook, Instagram Youtube, Twitch.tv, @CBH_Pod on Twitter, Craftbeerhustlers.com for our episodes and blogs and you can hear us anywhere you get your podcasts! I'd also be remiss to not mention the Grealish Media Group (@GrealishMediaGroup) which has recently started up. We are helping like-minded Social Media presences and podcasts build a community and network to constantly develop their content.
1 – Your go-to beer on a scorching hot & humid summer day?
I can 9/10 times be found with an IPA in hand, but since moving in with my girlfriend, I've found myself drinking more sours especially during the summer. I've just been making beer trades with sours in mind so it's something she'll enjoy but realizing I now have too many sours…
2 – What is your favorite beer glass to drink from and why?
I love Teku glasses. Ed for sure wants me to say my GotHops.Blog Willie Belcher, but Tekus feel sophisticated and can really get your nose in the aromas. If I don't have a teku on hand, GotHops.Blog Willie Belcher is next up to the plate 😉
(editor note: awwwe 🧡)
3 – Name a beer, which is widely available, but in your opinion is underrated and overlooked?
My knee jerk reaction is to pump Castle Island's tires, but them and everyone who follows me knows I love everything they make and I think they're getting more recognition as of late.
I'm going to have to say Notch or Jack's Abbey because they are just both creating wonderful European Style Lagers. In the times of Hype IPAs, Pastry Stouts, and Sours, European styles just aren't getting the recognition they deserve, but Jack's Abbey and Notch are making a name for themselves going against the grain just making such amazing tasting stuff. Those are also two taprooms post-pandemic people should be checking out. Great aesthetics, food, locations, and people.
4 – What is your opinion of standing in line to purchase beer at a brewery?
This is coming from a place of privilege because I tend to think Massachusetts and New England, in general, have some absolutely amazing beer and other breweries want to compete in the area so they distribute more often here, but I'm pretty over waiting in line for beer. If you know me, I think that beer is a communal thing, we're supposed to openly share and spend time with each other while drinking. Beer isn't supposed to be hoarded and it certainly isn't meant to be pretentious. If you're a newer brewery and you do not have the capacity to produce up to your demand, a line makes sense. If you're a larger brewery that can meet the demands and it's just not available, I can find another brewery producing top-quality beer somewhere else.
5 – What is your opinion of craft beer variety packs?
What's the difference between a flight and a variety pack? Nothing other than ounces! I think variety packs for newer to craft beer drinkers or newer beer drinkers, in general, is a great thing for them! They get to understand what they like and what they don't like.
6 – Your go-to beer while golfing, playing softball, fishing, etc.?
As of late, it's whatever is in my fridge, but there is a time and place for everything and I will gravitate towards macros. If I'm spending a day on the links typically it will be all the beverage carts have, but you can fit more 12oz cans in your golf bag than 16oz.
7 – When not drinking beer, what is your go-to beverage?
Coffee or water… I can't get enough coffee and now that I've finally converted from brewing in a French Press to the Chemex I just want coffee all the time.
_____________________________________________________________________________
Look for these future responses from the following for SQBS soon…
Part 15
@crystalm3thany and owner PJ of @navigationbrewingco
Part 16
@achesnes21, @inkdmomkpg, and Bob @bixandbrews.  Owner and head brewer at Altruist Brewing.
Part 17
@thebrewlocker and @pitkinpointbrewing
Part 18
@womensbeercollective and @itsallbeertome
Part 19 – Could be you?
If you want to be featured, send me a DM or reach out to me via email at [email protected].  Feel free to comment at the very bottom if you want to see more!
You can also find my other posts and pics on Twitter, Instagram & Facebook.
Thanks for reading and have a great day!
Ed-
Tags:
#beerbloggers
,
#blogger
,
#craftbeerblogger
,
#sevenquestionbeersunday
,
beer
,
breweries
,
Hoppy