When two friends who have known each other for 30 years, plan to move all their hops into the proverbial brew kettle, with a 30 bbl system, you have to wonder (almost aloud) have these guys been drinking too much beer?Welcome to Leadfoot Brewing!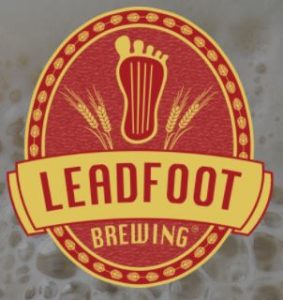 They did their homework, researched what existed vs what most brewers started with for brew systems out of the gate.  Their new brew home, which was once used by the historic Hampden Brewery, is monstrous!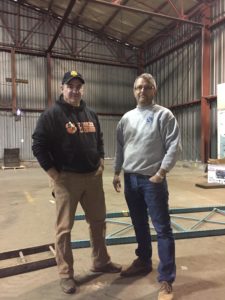 Patrick Randall and Jeff Thibodeau, owners of Leadfoot Brewing, will break open the seal on the new brewery initially focusing on a Czech-German style Pilsner and an American style Lager.  They do plan to brew other products and have experimental brews such as IPA's and Session Ales.  At the time of this writing, they did offer a taste of a German IPA.  It was not fully carbonated (yet) but it was very tasty and had a nice malty finish to it.
Thibodeau is the brewmaster, with Randall being "fix it" guy when not at thier day job.  The former being a air filter Sales Rep, and the latter working as a Project Manager in the food industry and is also a licensed Professional Engineer.  They both plan to keep the days jobs for now, while they brew beer in Randall's garage.  They explained the process of opening a brewery, applying for a federal farm brewery license was actually easy and fast.  The biggest stumbling block was zoning issues and trying to acquire an occupancy and liquor license from the town of Chicopee.  However, they were very confident that would be solved and soon.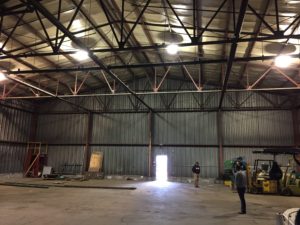 As most brewers do, they like to be supportive of the community and not just in Chicopee, but with other vendors in New England.  Their tap handles were made at Green Mountain Tap Handles in Hinsdale, NH.  Most of their hops will be purchased at 4 Star Farms in Greenfield, MA.  And they have already contacted a few farms to give away their spent grains for feed and even entertained the idea of making dog biscuits with the aforementioned grains.
Randall and Thibodeau met 30 years ago and have been brewing beer together since 2007.  They did not have any names to share of any of thier products to date but they did mention they would love to pay tribute by naming the Pilsner and Lager, respectfully, after the names of each of their moms.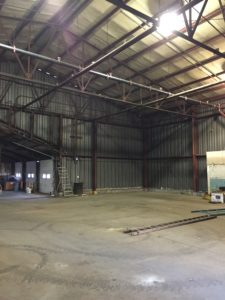 When asked where the name of Leadfoot came from, Thibodeau boldly laughed and pointed at Randall.  Shaking his head and laughing in agreement, it appears that Randal is a leadfoot while driving, as explained by Thibodeau.  Hence the name was born!
Their new brew system will be delivered by end of February.  They plan to be open by July of 2018.  They have a lot of work ahead of them.  Suring up the building while creating adequate parking with a nod to curb appeal too.  They do not plan to serve food or have a kitchen but plans are to have food trucks on site.  Leadfoot brewing plans to be open on Fridays, Saturdays, and Sundays, complete with a tap room.  Some of thier other priorities is to keg and sell thier beer to local restaurants.  They would also like to do canning of thier product but only mentioned it as a possibility.
You could tell both Randall and Thibodeau are passionate about brewing beer.  Thibodeau even spent some time in Plzeň, Czechoslovakia in 1993. They have good relations in the beer community too, mentioning Arc Point Brewing and Vanished Valley as supporters to thier effort.
The brewery will be located towards the end of North Chicopee Street in Chicopee, MA. You can find out more info by visiting at
www.leadfootbrewing.com
Click the link below for a complete gallery of pictures taken of my visit.  Feel free to use and share but please give proper credit to Labyrinth Brewing and GotHops.blog.
Like what you read?  Feel free to comment below or reach out to me at [email protected]
You can also find my other posts and pics on Twitter and Instagram.
Twitter – _@GotHops_
Instagram – @gothops.blog
Thanks for reading and have a great day!
Cheers!
Ed-